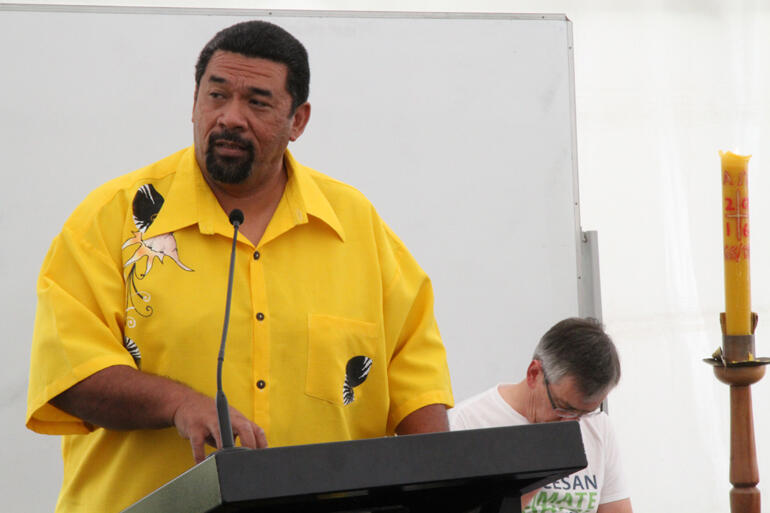 The Anglican Mission Board will devise a strategy to strengthen this church's response to natural disasters in the Pacific Islands.
This includes linking with other relief agencies and forming a cadre of "church community trainers" to teach parish youth groups about disaster preparedness.
Young people across all three tikanga will be involved at every level of the planning and implementation.
These initiatives flow from a General Synod motion brought by Fe'iloakitau Kaho Tevi (Polynesia) and amended by Sarah Crosse (Waiapu). The core of the motion and its amendment are at the end of this report.
EXCERPTS FROM FE'I TEVI'S ADDRESS...
Since the Paris climate change summit last year, we have lost seven Pacific islands.
I want to tell you about Cyclones Winston and Pam, that members of this synod lived through, that my family and I lived through.
Imagine you are in a train station on the platform, a little way back from the edge of the platform.
And a train goes through the station at 250km per hour.
Imagine the force of that wind, the power of it passing by. The sound of that train to you is what Cyclones Pam sounded like. Except its winds reached 341km per hour.
Thank God it was only six minutes of wind, if it had been ten, a lot more lives would have been lost.
Emergency gifts
We thank you in New Zealand for the emergency development assistance.
It is not that we are not grateful, but this is a pattern.
When a disaster happens, people act in sympathy they send second hand clothes, they send electrical kitchen appliances to places that don't have electricity.
They send high heels, to people who get them and don't have anything to do with them. After the disaster in both Vanuatu and Fiji there was food past its use by date that came.
These gifts sit in containers on wharves, and we are not too sure what to do with them.
Sometimes we have to sell the clothes, to get some money for the things we need.
Partners in development
I put this against the initiative taken by the Rev Mike Hawke in Christchurch - a place that knows what it is to experience a natural disaster.
They sent us a container, filled to the brim with building materials and second hand tools.
With that one container we were able to rebuild seven churches and also some vicarages.
Perhaps we as the church need to shift from where we were at in terms of sympathy to towards partnership in action.
What is the church's role in disaster preparedness?
We are so blessed to be one church under one roof where we are from Polynesia and Aotearoa, New Zealand.
We do not need protocols, or memorandums of understanding for you to come and help us in the Pacific because we ARE THE THREE TIKANGA CHURCH.
Young people
I was thinking about how we could bring our young people into our disaster response instead of them going to get the elderly people to safety when there are shards of wood flying past, and the young people are ducking and dodging all these things in the air.
Why can't we do this earlier, why can't we go to the elderly and ask, do you have enough candles, enough bottles of water and get them prepared in time?
It is time for us to tack, like the sailing waka, from sympathy and inaction, to partnership and action.
I don't need your sympathy.
I also want to say, we often get organisations to do things for us.
Let's move to what we are doing for ourselves for these issues.
It is time to move the tiller/huli toward action, together.
In the Pacific we don't say much. When things get serious we smile and laugh, but the seriousness remains.
This motion proposes we develop a partnership together in this three-tikanga church.
The full motion
This General Synod / Te Hīnota Whānui 2016 therefore:
1. Mandates the Anglican Mission Board to work with other relevant service providers of the Church to:
a. Establish a clear resilience strategy that would strengthen the Anglican Church of Aoteraroa New Zealand and Polynesia's response to any future natural disaster.
b. Develop clear strategies linking the Anglican Church of Aoteraroa New Zealand and Polynesia with disaster relief agencies to enable a cadre of Church Community trainers who are then tasked in training the youth groups of the parishes in disaster preparedness.
c. Develop a Diocesan Rapid Response Plan that would allow the Anglican Church of Aoteraroa New Zealand and Polynesia to respond in a timely and strategic manner to any community affected by a natural disaster in the Pacific Island Countries under its jurisdiction.
d. Link into the Disaster Risk Reduction networks with a view to creating partnerships with other like-minded bodies involved in the area of jurisdiction of the Church.
e. Create a conducive environment for longer term partnerships between parishes in New Zealand and those in the Diocese of Polynesia with the objective of developing longer term twinning parish partnerships on resilience and preparedness
2. Invites AMB to consider this motion as a priority in its work plan for 2016-2017.
3. Mandates GSSC to monitor the implementation of this motion in close collaboration with the AMB and other relevant partners and report back on its implementation at the General Synod / te Hīnota Whānui 2018.
Sarah Crosse (Waiapu) brought an amendment on behalf of three-tikanga youth who had received Fe'i Tevi's invitation to step up for the Pacific during their Tikanga Youth Synod this year.
It reads:
1.f. Engage and empower Three-Tikanga young people to be involved at every level of visioning, strategic planning and implementation around building resilience and disaster preparedness.
The motion (#13) was passed with the youth amendment.