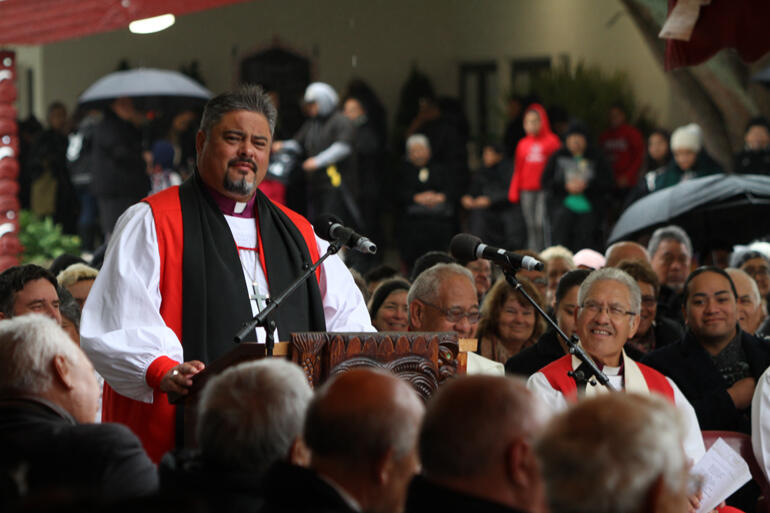 The Anglican Church in Aotearoa New Zealand and Polynesia is stepping up to honour the achievements of the Kingitanga (Māori King movement), the Ringatū and Rātana churches in 2018 as each celebrates a significant anniversary.
The General Synod Standing Committee has ratified a motion brought by Tikanga Māori to enliven ties with the three movements in this year when: the Kingitanga commemorates 160 years since the coronation of Pōtatau Te Wherowhero as the first Māori King; the Ringatū Church marks 150 years since its founder Te Kooti Arikirangi Te Turuki first offered prayers at Whareongaonga, and the Rātana Church celebrates 100 years since its founder, Te Māngai, Tahupōtiki Wiremu Rātana received his calling to a ministry of healing.
Events throughout 2018 will draw thousands of Māori well-wishers to celebrate and recognise the historic and current day contributions of the Kingitanga, Ringatū and Rātana churches to Māori faith, health, welfare and political development.
Archbishop Don Tamihere believes these milestones give our Church the chance to show our deep respect for all the good work done by the Kingitanga and the two churches.
"In the Māori world, turning up makes a big difference, by our presence we want to signal a new reality in these relationships." he said.
"At the heart of our faith is a call to peace and to unity."
Archbishop Don recognises some might talk about these relationships in terms of interfaith or ecumenical dialogue.
"But for Māori what unites us first is that we are Māori and we are a people of faith. There is far more that unites us than divides."
"As Māori our stories and our whakapapa* are intertwined," he said.
"We share tribal affiliations and geneaology, we share the experience of colonisation and we share the experience of receiving the gospel and responding in different ways."
In the past Pākehā Anglicans stood apart from the Māori churches, a choice which led to the 1925 decisions by the Anglican Bishops of Auckland, Wellington, and Waiapu to excommunicate T. W. Ratana and his Anglican followers.
Previous Bishops of Aotearoa, including Bishop Manu Bennett and Bishop Whakahuihui Vercoe have delivered apologies from the Māori Anglican Church for that action and other historic hurts shared between the Anglican Church and the Māori sovereignty and faith movements.
Now in 2018, the Anglican emphasis is firmly on kindling stronger relationships.
In July this year Archbishop Don Tamihere represented Te Haahi Mihinare – The Anglican Church at the Haahi Ringatū Ra Whakamaumahara – the Ringatū Church's 150th anniversary day of commemorations held at Rangiwaho Marae near Gisborne.
"Our message when we got there was clear," said Archbishop Don,
"We're there willing to support, willing to build relationships.
"Our mission at these events is not to convert or to coerce, but to be in these spaces as servants."
"What is most important for us is being united in working for the good of our people."
In the same vein, this week Archbishop Don Tamihere and Archbishop Philip Richardson will travel to Ngaruawahia, home of the Māori King, where they will attend thanksgiving events and a joint service marking 12 years of King Tuheitia's reign, on 19 and 21 August.
Archbishop Philip Richardson believes that these relationships are priorities not only for Tikanga Māori, but also to demonstrate our whole Church's commitment to the Māori world.
Later this year in early November, Archbishops Don Tamihere and Philip Richardson will travel again, this time to Rātana Pā, to attend the celebrations of Te Haahi Rātana as it marks its 100th anniversary.
For Archbishop Don, turning up to these events is essential, because strengthening relationships won't happen by staying at home.
"We have a choice as to how we relate to people."
"One way is to invite people into our little world – the world inside the walls of our churches ­– and instruct them on how to understand us. That way would make us insular and ineffective, and in my opinion our church has been far too inward-looking for far too long."
"A better way is to go outside those walls, and actually demonstrate the servanthood, the peace, the unity, and the aroha(love) that we say we have received from God.
"For me, this is a simple effort to go again to where our people gather, to be a living and contributing part of our communities, and to reorient ourselves as a light to the world."
As we make these moves, Archbishop Don hopes this focus will also help our Tikanga Pākehā and Polynesia partners come to a better understanding of who and what Tikanga Māori really is.
"We are more than just delegates to synods, boards, and committees. We are a part of an immense network of cultural spaces, of vibrant and living communities, and where we are as the Māori church, our whole church can be too. We can be there as one."