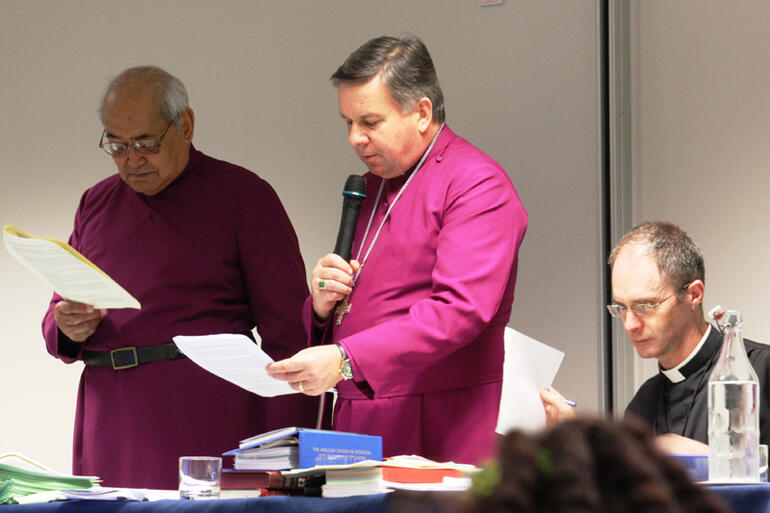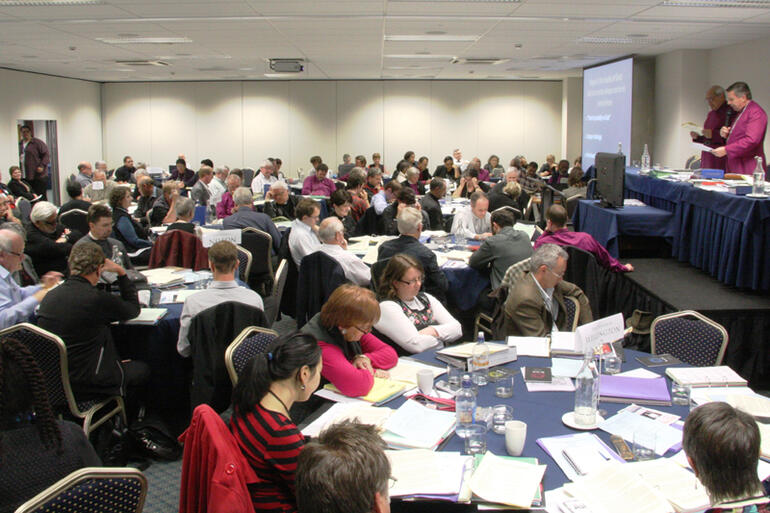 Anglicans in Aotearoa New Zealand have been called to mobilize on issues of social justice and conservation.
In their joint charge to General Synod/ Te Hinota Whanui, Archbishops Brown Turei and David Moxon dwelt on the need to proclaim a gospel of hope.
Hope, for example, in the face of meaninglessness; hope for a threatened environment; hope for 'at risk' youth threatened by punitive justice; hope in a world of alcohol; and hope in a recession.
The Archbishops, who took it in turns to deliver their charge, laid a theological platform for the spiritual, social and environmental activism they were endorsing.
"Mission," they said, "is never our creation or initiative. We have been caught up in God's own movement of love by being called to be with Christ.
"To be with or 'in' Christ is never to enjoy some static or private relationship; it is to be moving – from the heart of God to the ends of the earth as ambassadors of hope. 'As the Father has sent me, so I send you'."
Hope in the reality of God
The Archbishops commended the Rev Jo Kelly-Moore for her "remarkable witness" to the Christian faith on TV1's Close-Up programme, during the atheist campaign to run "There's probably no God" slogans on urban buses.
There remains, however, a deeper challenge than posed by the bus ads, they said.
Census figures reveal that on the question of religious belief, the fastest-rising category is "no religion", while it's now commonplace for politicians to describe themselves as agnostic or atheist.
And that, said the Archbishops, is a challenge to embrace.
"For Christians, atheism is an opportunity to meet this vacuum with the life-transforming love of God in Christ.
"If atheism and agnosticism are taken to their ultimate conclusion, there remains little to base real hope upon, and it is hopelessness which is one of our greatest challenges today."
'Crucial principles of sustainable living…'
The Archbishops also dwelt on the responsibility of Anglicans to commit themselves to safeguarding the environment.
"…the onus is on the church, and other people of goodwill, to uphold the crucial principles of sustainable living and the care of this creation we have been given by God.
"In particular," they suggested, "this means individually committing to a simpler lifestyle… offsetting polluting travel…getting involved with a Christian conservation group… becoming an eco-congregation… starting a local project to care for creation, and supporting organizations who are working to conserve creation and help the poor…"
And they encouraged Anglicans to make their voices heard over the mining-in-national-parks controversy.
"All new marine reserves," they said, "national parks, nature reserves, scientific reserves, wilderness areas, wildlife sanctuaries and internationally significant wetlands could also be at risk.
"One way to voice your opinion is to make a submission against this practice."
The two Archbishops also spoke out on moves to toughen up on sentencing for wayward young people.
"At a time when the 'Three strikes and you're out' policy is being presented as a way forward in this country, there needs to be a strong Christian voice speaking up for another way.
"In order for young people to turn around, away from a life of crime, there needs to be an appeal to their will which does not break their spirit.
"There needs to be in-depth, long-term tough love, where hope is offered in the form of deeply engaged role models, cultural pride and workplace upskilling. The short, sharp boot-camp model cannot achieve these goals in an authentic way."
Review of liquor laws applauded
The Archbishops also spoke in favour of recent moves to review New Zealand's liquor laws – as signalled in the recent Law Commission report.
And they say the problem of alcohol abuse goes well beyond these shores:
"As this General Synod will hear, there is an alarming increase in alcohol abuse across the countries represented by this church.
"Alcohol can be an opiate, just as much as any drug, and the temptation to drown one's sorrows or medicate one's brain seems to be greater than it ever was.
"In a world compromised by meaninglessness, an on-going recession and threats to the sustainability of life itself, alcohol seems to provide a legal means of escape."
The Archbishops also spoke of hope in a recession.
While there are signs of green shoots appearing in the economy, the Archbishops noted that "the roll-on effects of the recession will be with us for some years."
And they took as their cue the decisions made by the New Zealand Council of Christian Social Services in the wake of last year's church leaders meeting with the Prime Minister and his deputy.
Member churches agreed then that churches should take responsibility for bringing the impact of the recession to the Government's attention.
"This stems from a prophetic call for us to be actively engaged with those who suffer the most, and to bring their cause to the centre of power," the Archbishops noted.