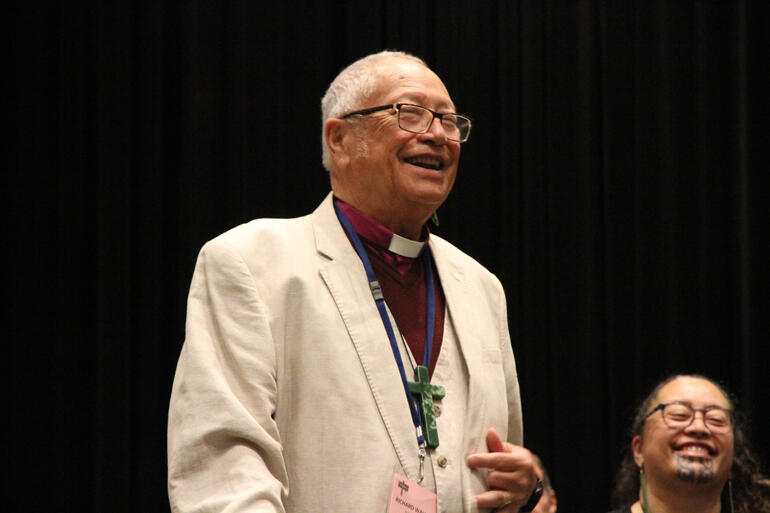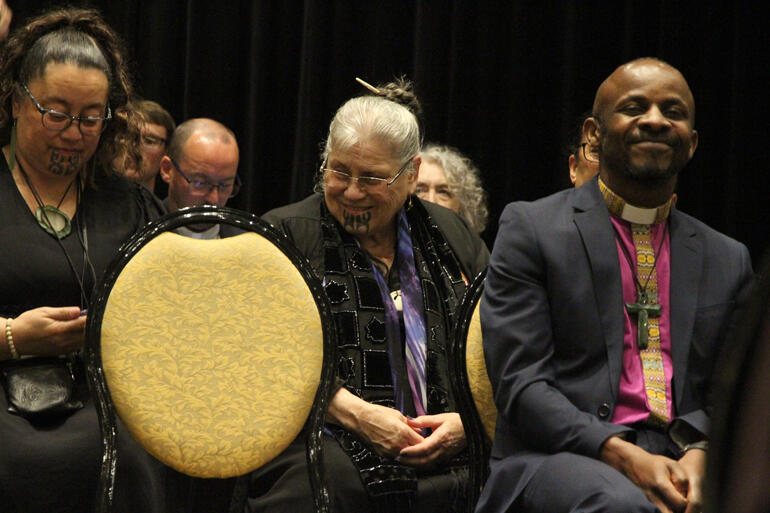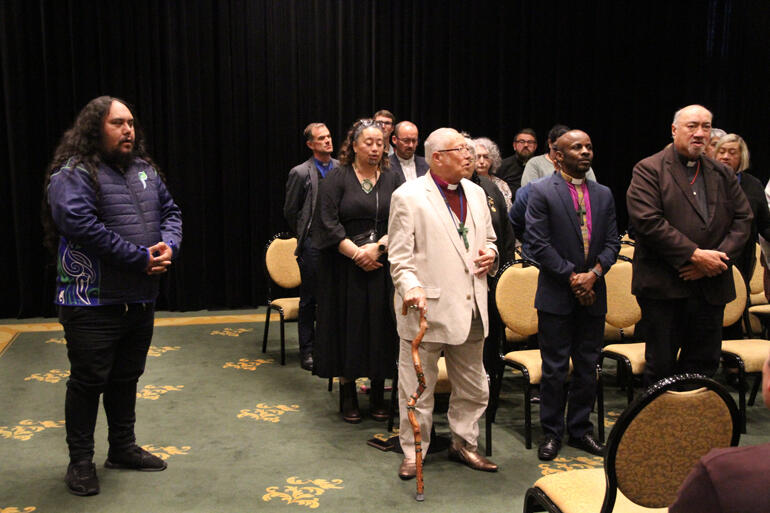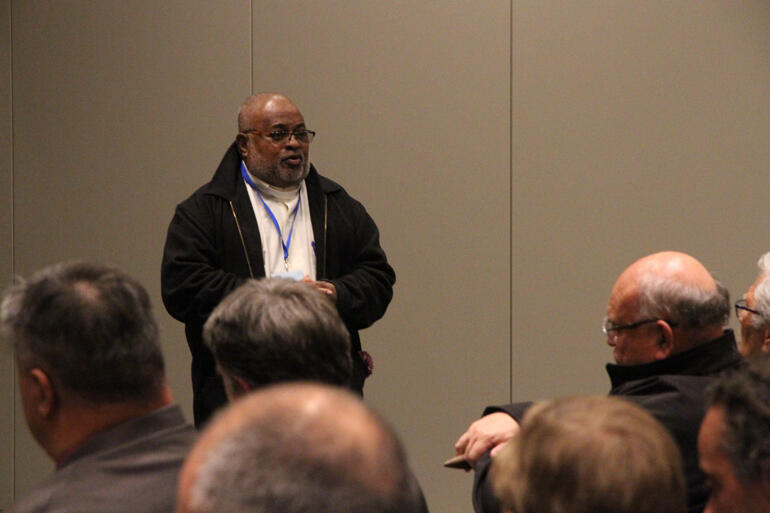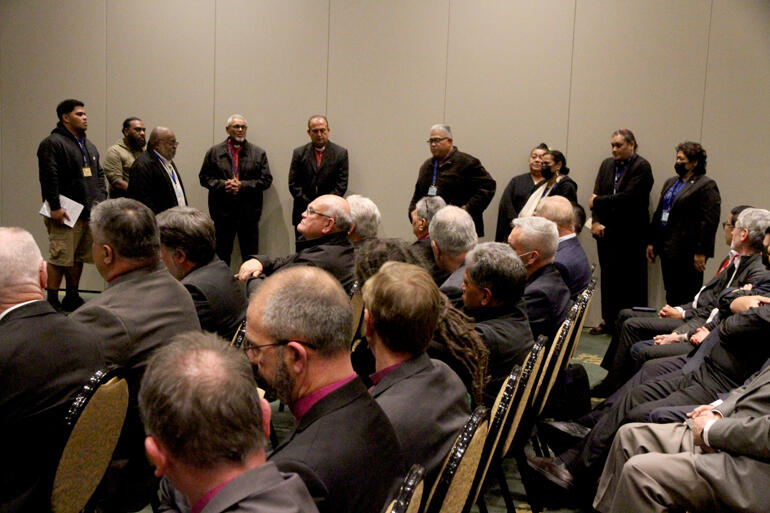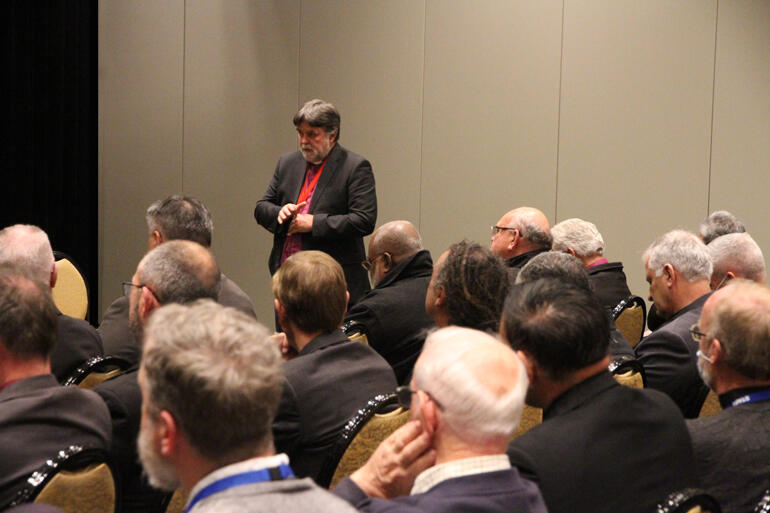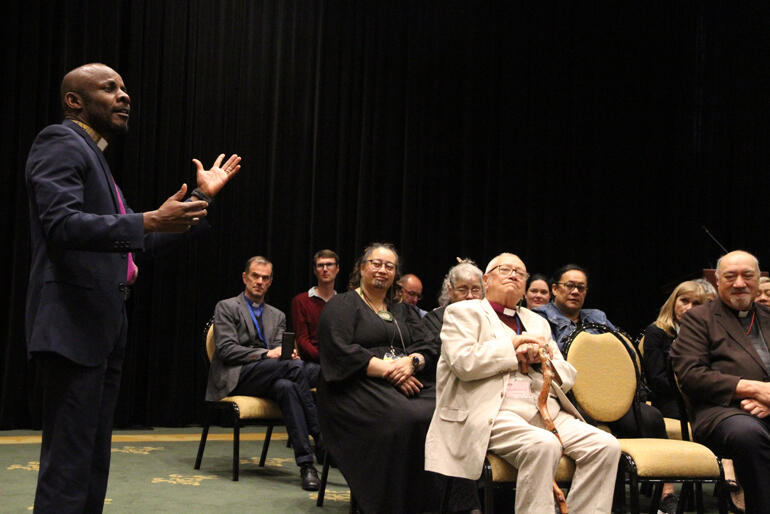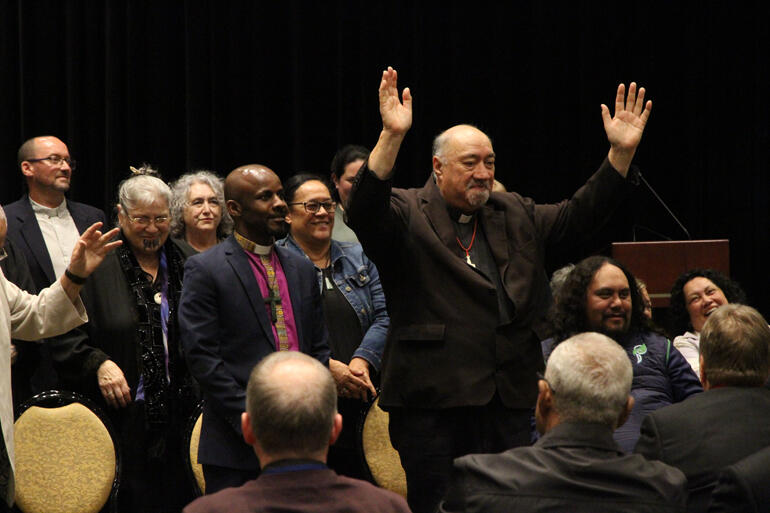 General Synod Te Hīnota Whānui began yesterday afternoon at Nelson's Rutherford Hotel, which sits on the side of Pikimai, the hill that provides the foundation for Christ Church Cathedral Nelson, seat of Bishop of Nelson Rt Rev Steve Maina and mother church of Hīnota Whānui hosts the Diocese of Nelson.
First up was mana whenua kaikaranga and Anglican leader Jane du Feu, who called Synod to assemble, followed by welcomes on behalf of local iwi Ngāti Koata, Ngāti Rārua, Ngāti Toa, Te Ati Awa, Ngāti Tama, Ngāti Kuia, with Bishop Richard Wallace offering welcome on behalf of the Hui Amorangi o Te Waipounamu and Ngāi Tahu iwi.
Archdeacon Harvey Ruru spoke first for mana whenua, welcoming the 120+ lay, clergy and episcopal delegates, as well as registrars, stewards and staff from the five Pīhopatanga, seven New Zealand Dioceses and the Diocese of Polynesia.
Tairāwhiti delegate Selwyn Parata responded for the manuhiri, highlighting the triple stranded Anglican Church in these islands as a model of unity that inspires others around the world. He encouraged Synod to remember that despite the many pressures the Church faces today, unity is its strength.
Pohe Stephens and Bishop Steve Maina offered words of welcome from the people of Te Tau Ihu – the upper South Island – in Bishop's Steve's case giving praise to God and honour to all those gathered in a powerfully delivered Māori medium speech.
Bishop Steve said it was a privilege to host the Synod, which he says makes perfect sense.
"Even though people might want to dispute it, this is the centre of New Zealand, so it's good for our Church to gather here at the centre of everything."
Rev Orisi Vuki from Fiji replied on behalf of the Diocese of Polynesia, whose delegates came from Samoa, Tonga, Fiji and the Diocese of Polynesia's episcopal base in Auckland.
Fr Orisi greeted te Hīnota in a sombre tone.
"We are here with you as we have been here before, but as we stand, we are not the same." He said.
Rev Orisi offered a glimpse into what that meant with the struggles the Diocese of Polynesia has faced since Synod met in Taranaki back in 2018.
Polynesia returned from that Synod to a future focused celebration of a new Archbishop. But too soon Covid came and closed churches, businesses and borders. Life was not easy.
"Then in the middle of Covid, we lost our bishop, Archbishop Fereimi Cama."
Fr Orisi spoke of the difficulty the diocese encountered to grieve their loss, with only ten people allowed to be present at any part of Archbishop Fereimi's final journey.
"It was not easy. We had no one to guide us, we had no one we could look to and call papa."
For now, delegates from the Diocese of Polynesia are looking forward to this week's meeting with hope.
"We thank God for the opportunity to be here with you all and with the two Archbishops, and we are waiting and watching and asking God to guide us."
"We look forward to the warmth of being here with others who we know are thinking of us, and talking with us and bringing us blessings, prayers and love."
Archbishop Philip Richardson acknowledged that Archbishop Fereimi's support had been vital to Archbishop Don and himself and that his sudden loss at only 66 had shocked his brother primates.
Archbishop Philip also reminded Synod that while technology had kept us talking through pandemic lockdowns, it is a very different thing to meet again.
"When we are apart we can speak past one another, but today I thank our hosts for their hospitality which enables us now to see each other face to face."
In his final words Archbishop Philip greeted Te Waipounamu and spoke of its stability and power,
"I look to the strength of this island, this place where I have lived for one third of my life...the strength of its mighty spine, the strength of its people. May we reflect that strength, that indivisibility in our work together."
The Mihi Whakatau led into the Archbishops' opening charge which included the Archbishops' take on the state of the nations and included a panel of young people reflecting on life since the the previous meeting of Te Hīnota in 2018.