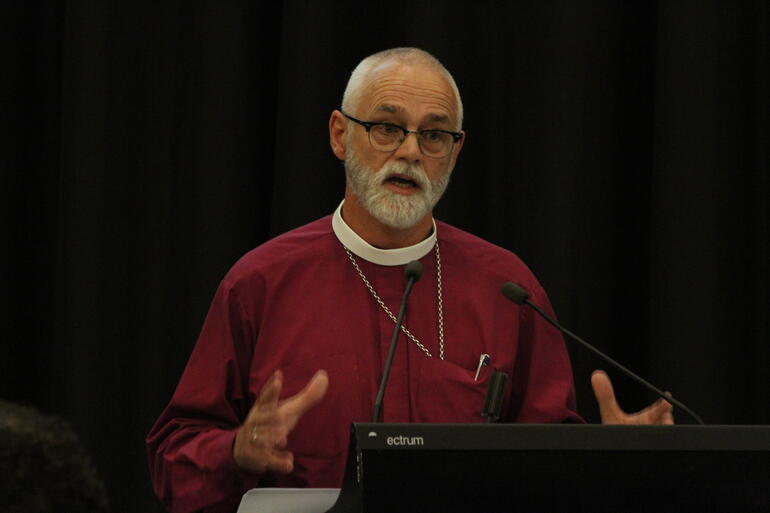 General Synod has considered a motion on Guidelines for Christian Initiation which proposed new forms of worship for affirming baptism.
Mover of the motion to accept the rites, Bishop Jim White (Assistant Bishop of Auckland) made the proposals on behalf of a Common Life Liturgical Commission working group who had been asked to delve into the theology and practice of confirmation.
Bishop Jim asserted that confirmation was past its use by date:
"This work recognises the primacy of baptism as the full rite of initiation," he told synod.
"With baptism you are on the bus. Once you are on the bus, there's no need to pay extra later on. People who got on the bus in other churches are welcome on the Anglican bus, and nothing more is required."

He reminded synod that in this Church we do not need confirmation for admission to communion.
"Our church was the first in the Anglican Communion to offer holy communion to children and many receive who have never been confirmed."

Bishop Jim described how confirmation arose in the early church when baptisms became too numerous for bishops to attend each one and offer their blessing.

Confirmation meant that bishops could meet the newly baptised, extend their apostolic authority to them and check on the authenticity of baptising communities. The working group argued those original reasons are now defunct.
Bishop Jim quoted Martin Luther's lack of love for the rite, who wrote "God knows nothing of it and what the bishops say about it is untrue."
Bishop Jim acknowledged the positive qualities of confirmation, which he believed would continue with the proposed changes.
"Confirmation has become interwoven with faith education and formation, and that is a very good thing.
"But as it is now, confirmation is non-sensical."

Rev Canon Michael Wallace (Dunedin) applauded the better wording and chrismation that appeared in the proposed rites.
He also reminded synod that the majority of Christians practise confirmation and refuted that its purpose is unclear.
"The bishops might not need confirmation, but I think the people do. We need a rite of passage to affirm our baptism. The challenge before us is to cherish and promote this important opportunity for public profession of faith."
Rev Dr Hirini Kaa (Tairawhiti) told synod that confirmation was a gift his ancestors had embraced and made their own.
"They received it and made it part of our tikanga. We do not want it taken away."

Ven Dr Peter Carrell (Christchurch) reported his diocese had opposed the motion, but he wanted to keep the proposed formulary that offers a new liturgy for reception into the Anglican Church.

Rev. Sonja Hunter (Polynesia) championed confirmation, which she says is important in the Pacific Islands.
"When I was confirmed I was so proud and happy to know my Ten Commandments and the Nicene Creed for myself. After my confirmation my godparents didn't have to keep me on track with faith anymore, I had my own faith."

After several speeches of support for confirmation from the three Tikanga, Bishop Jim White gave notice to withdraw the Bill, which leaves confirmation in place in this Church.