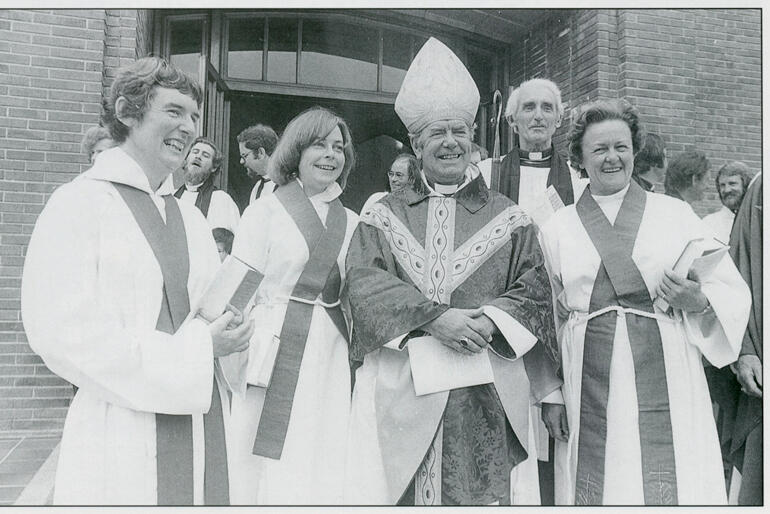 The Council for Anglican Women's Studies is calling on Anglicans across Aotearoa, New Zealand and Polynesia to celebrate this Province's 40th anniversary of women's ordination to the priesthood, which falls on 3 December this year.
To help parishes and ministry units celebrate the anniversary, Archdeacon of Auckland Carole Hughes has worked with a three-Tikanga group of advisers to prepare a commemorative liturgy of the Eucharist for use on 3 December.
The new liturgy, which also had input from Bishop of Waikato Helen-Ann Hartley, Bishop of Christchurch Victoria Matthews, and Assistant Bishop of Wellington Eleanor Sanderson, takes care to celebrate all women's contributions to church leadership in these islands, while highlighting the ministry of female priests.
Prayers and songs recognise women who have served in the church in education, decision-making, community development, social justice, psychotherapy, pastoral care, hospitality and faith formation as well as all those who serve or have served as deacons, priests and bishops throughout these islands.
When this province gained its first three women priests in 1977 – Rev Jean Brookes, Rev Wendy Cranston and Rev Heather Brunton – they were priested by the Bishop of Auckland, the Rt Rev Eric Gowing. Back then, New Zealand was only the fourth province to open the ranks of the priesthood to women.
The first woman ordained an Anglican priest was Li Tim Oi, ordained extra-canonically in 1944 in Hong Kong, only to be followed 32 years later when 11 women were ordained (defying canon law) in the Episcopal Church USA in 1974. Canada gained its first women priests in 1976, the Church of North India in 1984, and Brazil in 1985, but the remainder of the 16 provinces who have now ordained women did not do so until the 1990s or later.
In 1990, former Bishop of Dunedin Penny Jamieson became the first female diocesan bishop in the Communion, one year after Bishop Barbara Harris had become the first female Anglican bishop in history, on her appointment as a Suffragan Bishop in the Diocese of Massachusetts.
The Rev Jean Brookes believes it is good to use milestones such as this year's 40th anniversary to recognise all women who have ministered in this Church.
"There are stories that we need occasions like this to retell – to prevent them being lost," she said. "There is an enormous variety and richness in the ministries women have exercised."
"For example, we cannot forget the remarkable ministry of many women who chose to remain as deaconesses, who were in ordained ministry already and valued the continuity of that special ministry, even as others moved into the priesthood."
Jean Brookes has also been impressed at how many women in these islands have taken up ministry as priests.
"As Rev Jenny Quince and I have gone into diocesan records to try and work out the exact number of women ordained priest, it looks like we will be able to name more than 500 across the three Tikanga." she said.
Back on that first weekend in December 1977, two more women were ordained priest – the Rev Cherie Baker (also on 3 Dec.) and Rev Rosemary Russell (on 4 Dec.) – this time by the Bishop of Waiapu, Paul Reeves, who later served as both Archbishop and Governor General.
Rev Rosemary Russell, who now lives in Napier, is pleased to see that women no longer face the kind of obstacles to priesthood they once did.
"In the early days we often came up against people who would not accept our ministry. We just had to be determined to keep on despite that. But at some point over the years, it just ceased to be a problem. People's fears were not realised," she said.
"Now female clergy are so much part of church life that gender doesn't seem to make much difference. In fact the church would grind to a halt without women in priestly ministry."
Other firsts for women in this province came in 1978, when the Rev Puti Murray became the first Maori Anglican woman to be ordained priest, which took place at Te Kao Marae in Northland. In 2004, the Rev Eleanor Mancini was ordained in Auckland, becoming the Diocese of Polynesia's first female Pasifika priest.
Parishes and other Anglican communities are encouraged to mark the 40th anniversary in Sunday worship on 3 December, choosing from the three-Tikanga readings and prayers in the commemorative service, or particularly by using the collect written from prayers offered by the Revs Jean Brookes and Wendy Cranston:
God who has created us in your image,
as we remember 40 years of the ordained ministry of women in these lands
may the gift of memory become our treasure,
may our present time celebrate prophetic voices
that we may offer vision and hope for the future.
Through Christ Jesus,
who is alive with you and the Holy Spirit,
one God, now and for ever. Amen.
Two new songs have been written for the 40th anniversary service: one from Christchurch-based Anglican hymnwriter, Marnie Barrell named, 'Praise God for faithful women,' and set to the tune of 'I vow to thee my country' and a 40th anniversary Pasefika hymn, 'Here I am oh God. Send me' by the Rev Tomu Asioli.
Special services marking the 40th anniversary will be held in churches around the province on Sunday 3 December, including: at the Transitional Cathedral in Christchurch (3pm), Holy Trinity Cathedral in Auckland (2.30pm) and St Peter's Cathedral in Hamilton (3pm). Celebrations in Fiji and Tonga will be confirmed soon.
Note: The photograph above was provided by Kinder Librarian Judith Bright from the Howick parish history, When all the Saints by Robert Hattaway and Margaret Willis.