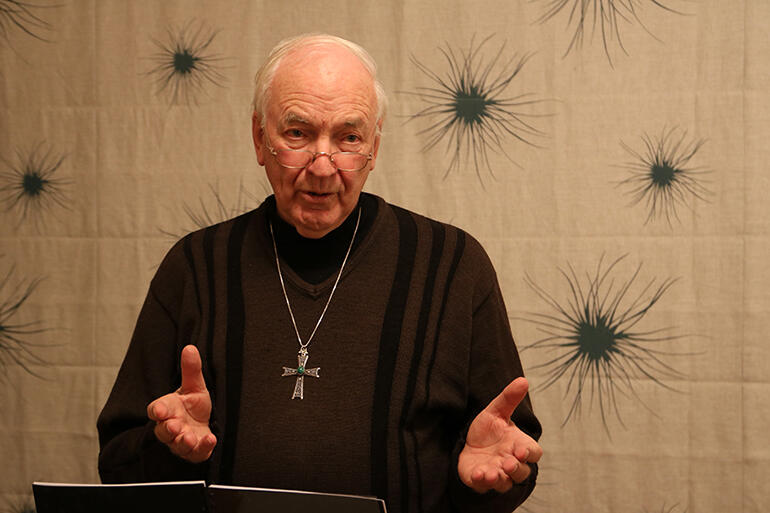 New Zealand's seven diocesan bishops – each of whom is opposed to the bill which seeks to legalise medically-assisted suicide and euthanasia – have had their views aired before Parliament's justice select committee.
The Tikanga Pakeha diocesan bishops argue that Kiwi laws dealing with end of life matters should not be changed.
Instead, they say, more resources should be allocated to palliative care – and Bishop Richard Randerson made an oral submission on their behalf in Parliament on Monday afternoon.
David Seymour's End of Life Choice bill proposes that Kiwis over the age of 18 who suffer from terminal illness, are experiencing "unbearable suffering that cannot be relieved" and who understand the consequences of their decision should become eligible for assisted dying, provided certain safeguards are met.
The bishops stressed a number of concerns about the Seymour bill – while acknowledging that end-of-life matters are "intensely personal and pastoral".
They noted that research in Oregon – which has made assisted suicide and euthanasia (AS/E) legal – shows that most Oregonians who seek early death aren't morbidly afraid of being unable to control their pain.
They were far more preoccupied by "existential fears", such as losing their autonomy; losing their ability to do things which make life enjoyable, or losing their dignity.
"We should respond to people who are suffering those things," Bishop Richard later commented to Taonga, "by caring for them."
#
He also suggested that a law change here might usher in a gathering momentum for AS/E – as it has done in Europe:
"In Switzerland now," he says, "it's pretty much 'death on demand.'
"You don't have to meet any criteria. It's enough to say: 'Look: I've had enough. Give me the way out.'
In the Netherlands, he said, 1882 people were euthanised in 2002 – and by 2013, that number had grown to 4829.
While in Belgium, 235 people had chosen to end their lives this way in 2003 – and that figure had jumped to 2303 in 2015.
Over time, European legal criteria for early death had loosened – so that in Switzerland, Exit is now open to elderly people who are not terminally ill, while in Belgium, psychiatric patients can apply to have their lives ended.
The Seymour bill proposes a Parliamentary oversight committee as a safeguard.
But the bishops are concerned that the oversight process here might eventually become a rubber-stamping exercise – as has happened in Europe:
"In Belgium, for example, the oversight committee is made up entirely of pro-euthanasia people," Bishop Richard later remarked. "And I'm not sure if anything gets turned down by them. There's a predisposition to say: 'OK'."
Elder abuse is already a problem in New Zealand – and the bishops fear that if the End of Life Choice bill is passed, vulnerable elderly people would come under greater pressure.
These folk, who are already being made to feel they are burdens to their families, would come under pressure – subtle and not so subtle – to exit life, as they see friends making this choice.
Making assisted dying legal, said the bishops, "could lead to the normalisation of this option."
They spoke too, of a "depleted narrative of care" that results from a western "pre-occupation with economic costs and benefits" at the expense of investment in social capital – which leaves hospices struggling for funding, for example, and scant resources for the treatment of conditions such as depression.
#
The Interchurch Bioethics Council also presented its oral submission against the bill to the select committee.
Rev Dr Graham O'Brien, who is both the co-chair of the ICBC and its Anglican representative, later spoke to Taonga about what he sees as the philosophical shortcomings of the proposed legislation.
"The problem is that if death is good for some, or right for some – then you have to extend that and say that death is a good and a right for all.
"So, there's actually no legal reason why you would have an age limit. Or a limit about conditions.
"Because if you can say that death is good for someone who is terminal, then you have to say that death is a good option for a younger person who is suffering deep and prolonged depression, for example."
He cited the 2016 case of a young Dutch woman, who had suffered prolonged sexual abuse in her childhood, who was allowed to go ahead with assisted suicide because, in the view of the Dutch Euthanasia Commission, her post-traumatic stress was incurable.
"How can you say," says Graham, "that her suffering is different or less horrendous than someone who's facing terminal cancer?
"That's why this type of law is nigh-on impossible to constrain.
"In Canada they are having class action suits, because their law is seen to be too restrictive. People are saying: 'Hang on. We want to be able to do this too.'
"And they've only had that law for two years."
#
Dr O'Brien said the solution to the problems the End of Life bill seeks to address are already at hand:
"We already have the means to provide hope and support for people who face terminal or chronic illness. We have some of the top palliative care in the world.
"We don't need to go down this AS/E pathway to relieve people's fears and concerns their end of life care.
"But we do need full resourcing.
"And we do need full access for all New Zealanders."
#
Both the Anglican bishops and the ICBC submission also drew attention to what they say are the cultural shortcomings of the bill – and the likelihood that a law change could, in Bishop Richard's words, "ride rough-shod over our treaty partners."
Those concerns have been outlined in a written submission from Te Hui Amorangi ki te Upoko o te Ika, which says that talk about the early ending of life is alien to Maori tikanga.
While the diocesan bishops are unanimous in their opposition to the bill, three other bishops – the Assistant Bishop of Auckland, the Rt Rev Jim White, and retired bishops John Bluck and David Coles, have written a submission in support of the bill.
"We believe that for some individuals with a terminal illness, assisted dying can be a good and moral choice and that we should offer medically competent assistance in carrying out such a choice," they write.
#
See earlier Taonga story: http://www.anglicantaonga.org.nz/news/common_life/eolc_bill