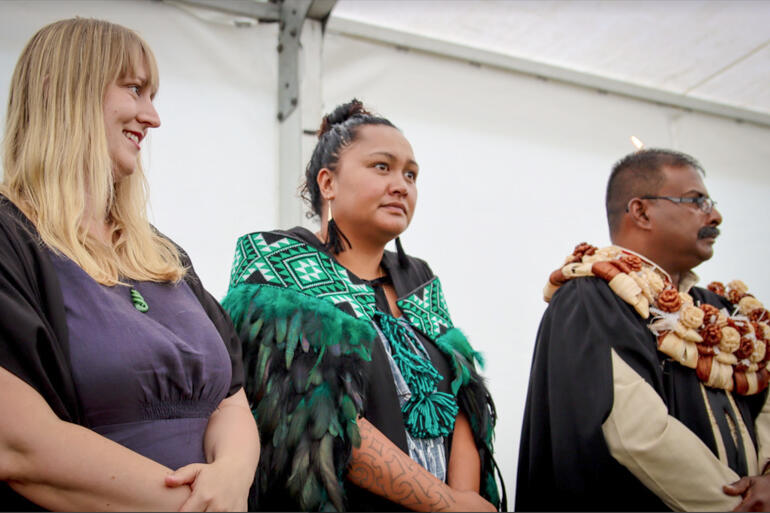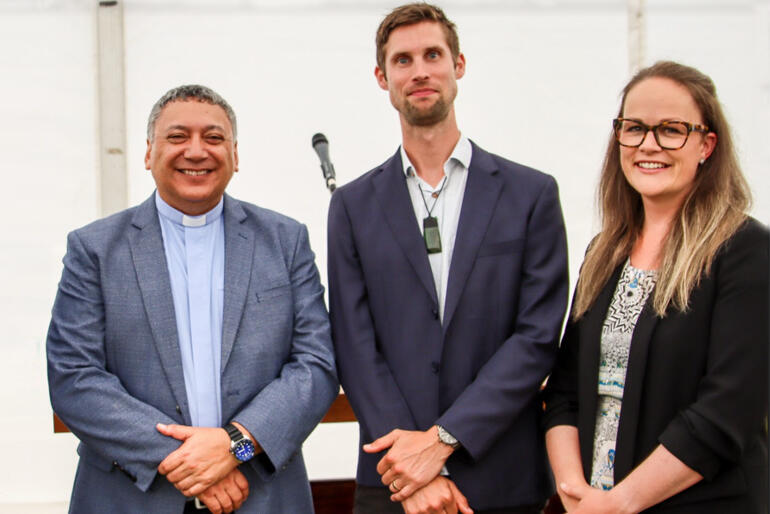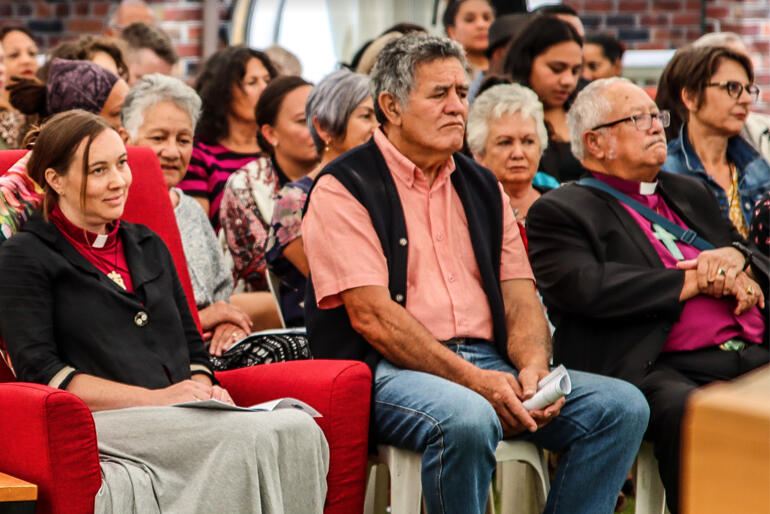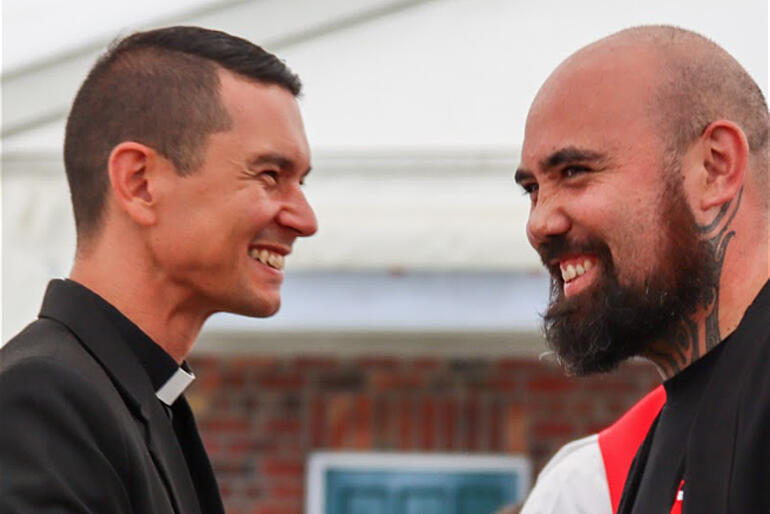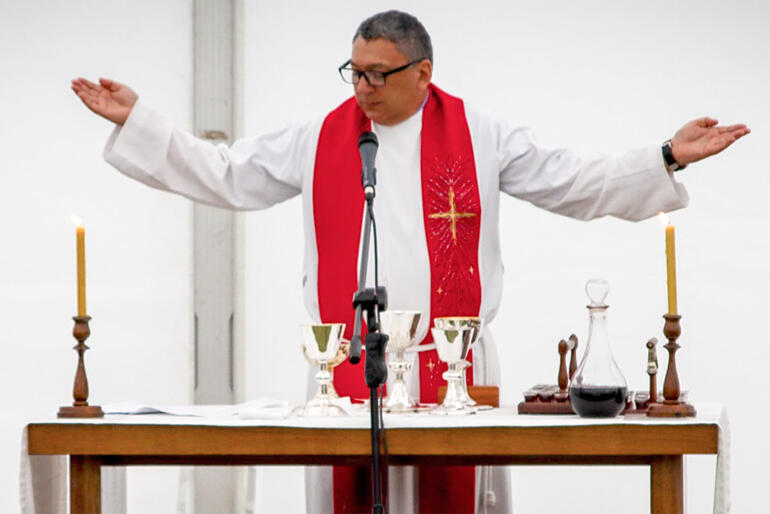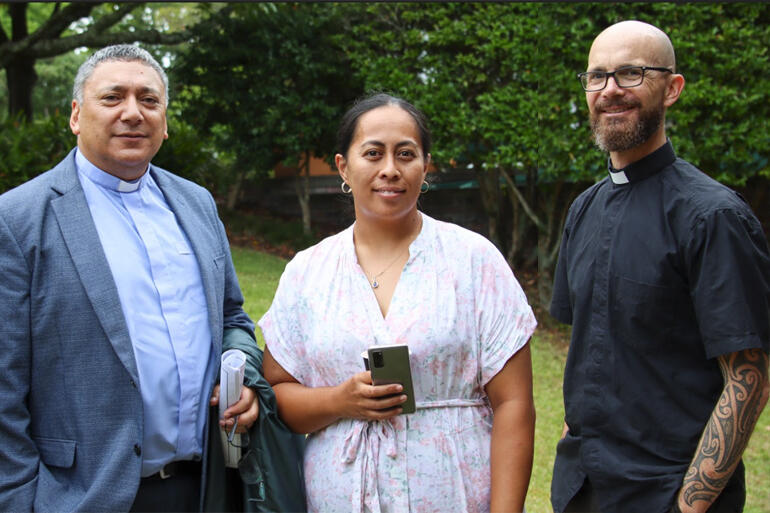 St John's Theological College in Auckland has opened for the 2021 academic year with a shared pōwhiri and Eucharist on 9 February gathering both St John's College and the Methodist Church's Trinity Theological College for a formal welcome at the Meadowbank campus in Auckland.
Staff and students from the two College communities joined together to formally begin the academic year and continue the fruitful partnership between the two churches' theological education faculties.
Both Colleges welcomed new staff this year, with Trinity gaining Mrs Emma Lu'isa Fifita Lino and Rev Alipate 'Uhila for their 2021 programme, and St John's welcoming Dr Tom Noakes-Duncan.
Manukura of St. John's College, Rev Katene Eruera says Dr Noakes-Duncan's arrival will strengthen the College faculty,
"Dr Tom Noakes-Duncan brings a depth of scholarship and experience to his role as a kaiako and mentor for this generation of College students. His background and study in restorative justice will add a new ministry skill to strengthen our formation of leaders for the future church."
Tom Noakes-Duncan completed his Doctorate in Theology from Otago University in 2016 on Communities of Restoration: Ecclesial Ethics and Restorative Justice.
Tom's ministry formation came through the Urban Vision movement based in Wellington, and he joins the St John's College staff from the School of Government at Victoria University where he lectured in the work and practice of restorative justice.
Tom will teach in the Diploma of Christian Studies and the Diploma of Anglican Leadership programmes, and join other College staff in the roles of mentor and coach for students in formation.
Chair of Te Kaunihera – St. John's College Board, Ven Dr Lyndon Drake, was also encouraged by the installation of Dr Noakes-Duncan on Tuesday, and pleased to see the large cohort of new students for 2021, that now bring the College up to its residential capacity.
As part of last week's opening, the St John's College community held a graduation ceremony honouring the hard work of graduates who have completed the Diploma in Christian Studies and Anglican Leadership through the College – despite the challenges of 2020.
Manukura Rev Katene Eruera presented 2020's graduating students with their tohu (certificates) for the New Zealand Diploma in Christian Studies and Anglican Leadership: Cassandra Lee, Channah Poutai, Daniel Prakash Sahayam, Henare Waaka, Hilary Willet, Jacqueline Clark, John Nivoi, Jordan Maluafou, Kate Tarere, Kathrine Loamanu, Luke Tukana, Paul Leighton, Rob Karaka, Sarah Pidgeon, Te Karere Scarborough and Wilson Zi En Chan.
Also attending the event to support the new student cohort were Pīhopa o Te Wai Pounamu, Bishop Richard Wallace and Assistant Bishop of Wellington, Bishop Eleanor Sanderson.
As well as honouring staff and students, Principal Rev Katene Eruera took time to recall the life and ministry of the first Bishop of Te Tai Tokerau, the recently deceased Pīhopa Waiohau Rui (Ben) Te Haara (Ngāti Rangi, Ngāti Kuta) and to give honour to his memory as a College forbear.
As part of the opening ceremony, Graham Black read from Mark 7:1-13 (Tradition of the Elders) which offered the day's first warning and challenge to students to not only focus on getting the study right, but to keep their hearts and minds open to God's leading at all times.
Dr Emily Colgan preached a rousing sermon to usher in the new academic year, reminding all those at College what the real goals are for their years of formation ahead.
"Our business [at the College] is complex theological enquiry, where we scrutinise scripture, we analyse models of mission, we reflect on Christian history, we encounter new spiritual disciplines and pastoral practices, and we interrogate the prevailing theological doctrines and discourses." she said.
"This is hugely, hugely exciting, it's vitally important and it's profoundly challenging. It enriches and strengthens our faith and is deeply life-affirming."
Dr Colgan told students that to take seriously Jesus' call to justice and compassion is a dangerous thing, pointing out that Jesus calls us out of our comfortable lives and asks us to risk an encounter with otherness.
"Jesus urges us to welcome, include, make space for, and respectively learn from those whose race, gender, sexuality, theological perspective or religious affiliation is different to our own."
Dr Emily acknowledged this kind of inclusion can be difficult, and sometimes it will mean going against the grain of our communities. But she recalled 20th century mystic Thomas Merton's words,
"The Christian in whom Christ is risen dares to think and act differently from the crowd. "
"They have ideas of their own, not because they are arrogant, but because they have the humility to stand alone and pay attention to the purpose and the grace of God, which are often quite contrary to the purposes and plans of the human power structures."
Dr Emily Colgan also cautioned new arrivals to remember that behind our "fancy theologies and elaborate interpretations", there must lie the radical demands of God's love and God's justice, which she said are always weighted towards those who are vulnerable and marginalised.
'We must guard against hiding safely behind well-reasoned words and arguments to avoid getting our hands dirty, participating in the outworking of God's love in the world."
As the 2021 academic year sets off at the College, Te Kaunihera Chair Lyndon Drake noted another rising strength of the College is coming through the many new students from both Tikanga Māori and Tikanga Pākehā who are arriving already competent in te reo Māori.
"We rejoice to see the College going from strength to strength in Te Reo Māori," he said.
"I congratulate Te Manukura, Katene Eruera, on the progress he has already made in leading the College, and I look forward with great optimism to seeing the students grow in their formative years at the College – and flourish in leading the Church in mission in the years which follow."