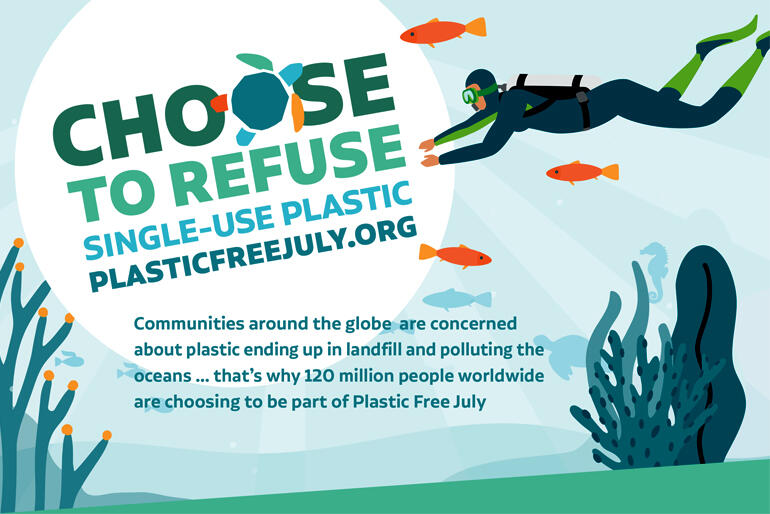 Anglicans are being invited to try the 'Plastic-free July' challenge, where community groups and social organisations cut out single-use plastic within their community activities for the month of July each year.
The Plastic-free July challenge originated in 2011 as a pilot scheme rolled out by staff and volunteers from five local bodies in Western Australia, and since then has snowballed into a millions-strong worldwide movement that continues to grow.
Community groups who sign on to the plastic-free July spend a month working out how to cut their use of single-use plastic to zero: including the top layers of waste such as disposable plastic cutlery, cling-film, plates and straws, but also working to avoid plastic biscuit and bread wrappers, plastic milk bottles, plastic water bottles and plastic coffee bags.
Churches are counted among the diverse groups to take on the challenge, which includes everything from preschools and public libraries, to Buddhist temples and diving clubs. Many who take on the challenge say they come to realise how high their plastic usage had been before they took a critical look,
"As soon as we tried to go plastic-free we realised how much plastic was sneaking in to our church life without us even realising it," said Cynthia Greensill, who spearheaded a shift to reusable fabric bags for All Saints' Fruit and Veges, North Dunedin Anglican parish's low cost fruit and vege scheme.
Plastic-free July encourages groups to lobby Government to regulate against single use plastics, and to advocate for the return of plastic-free alternatives that previous generations took for granted – such as reusable glass milk bottles and basic food items wrapped in cardboard or waxed paper.
For more Plastic-free July ideas, visit the Anglican Social Justice Network's Plastic-free July page here.
Read former Anglican Taonga environment columnists Matthew Luxon and Waveney Warth's tips on rubbish-free living at Rubbish-free New Zealand.
Link to more waste-free resource sites around Aotearoa New Zealand at Living Waste-free.