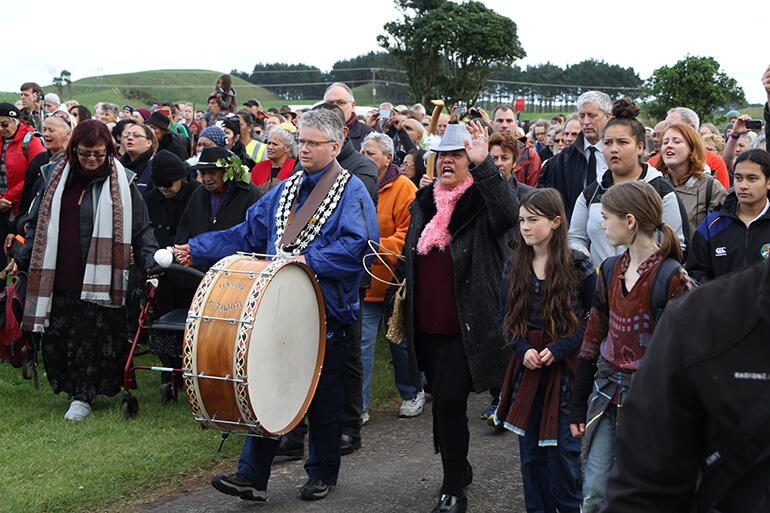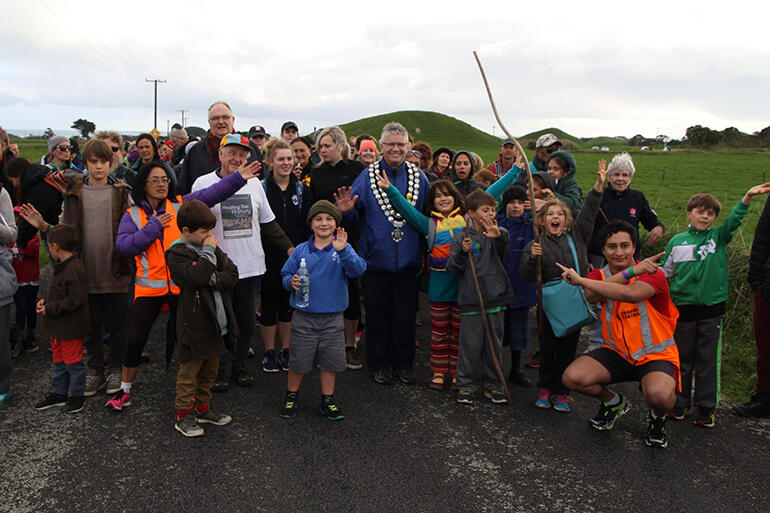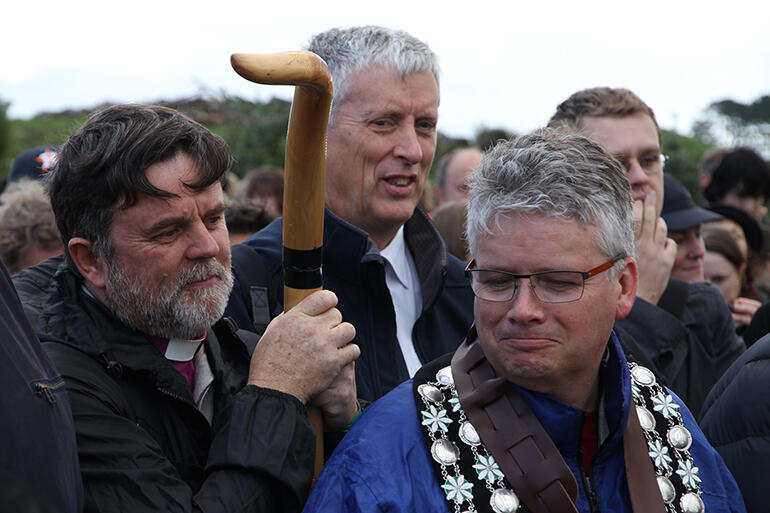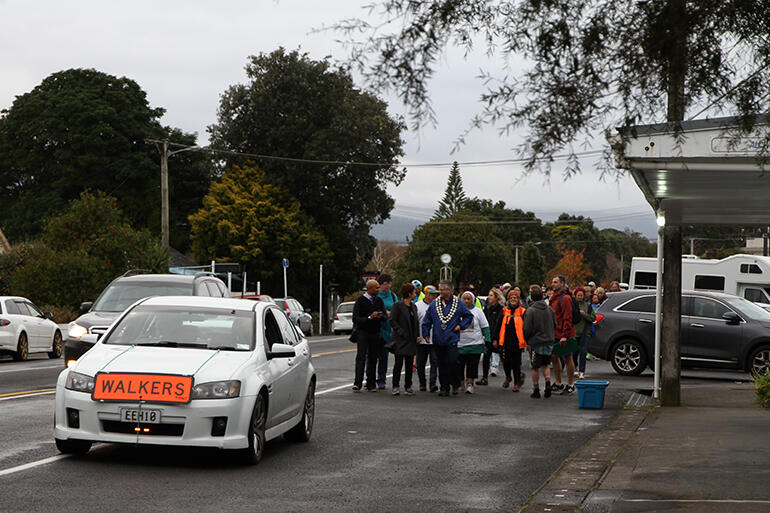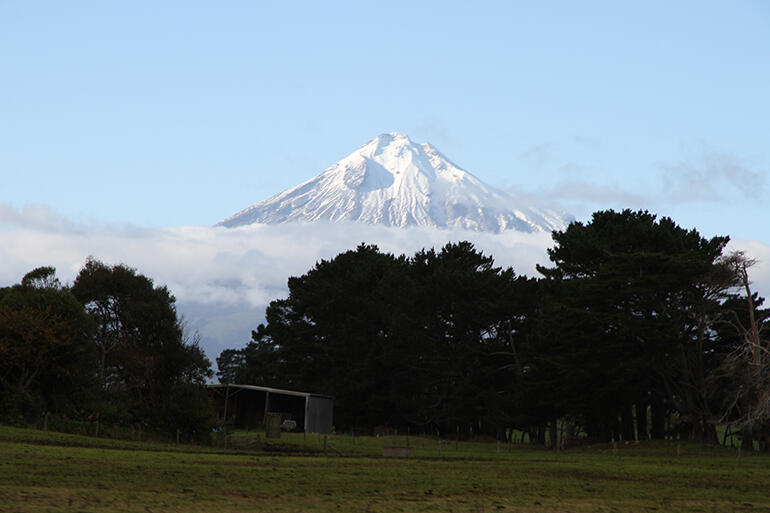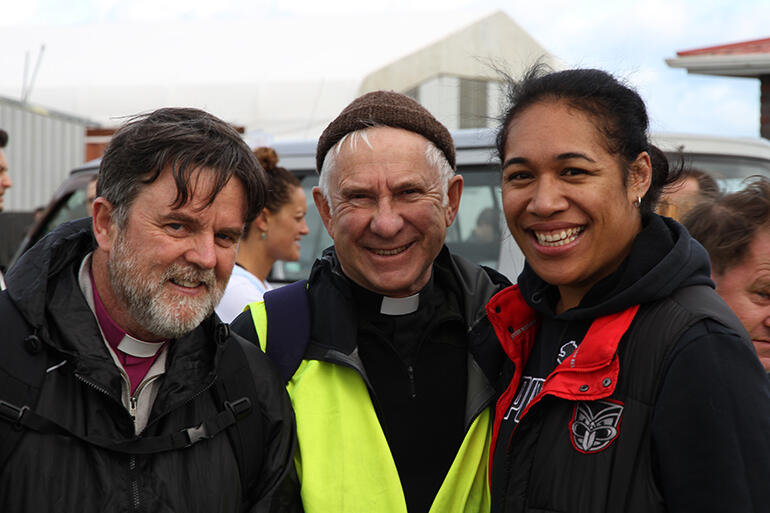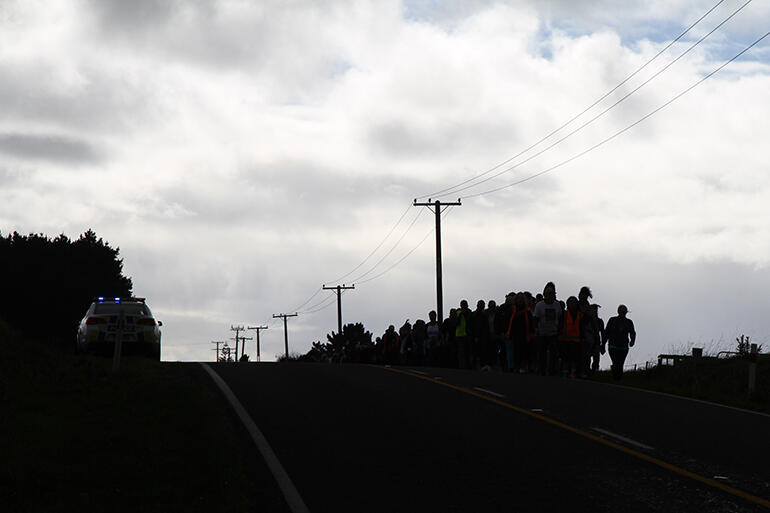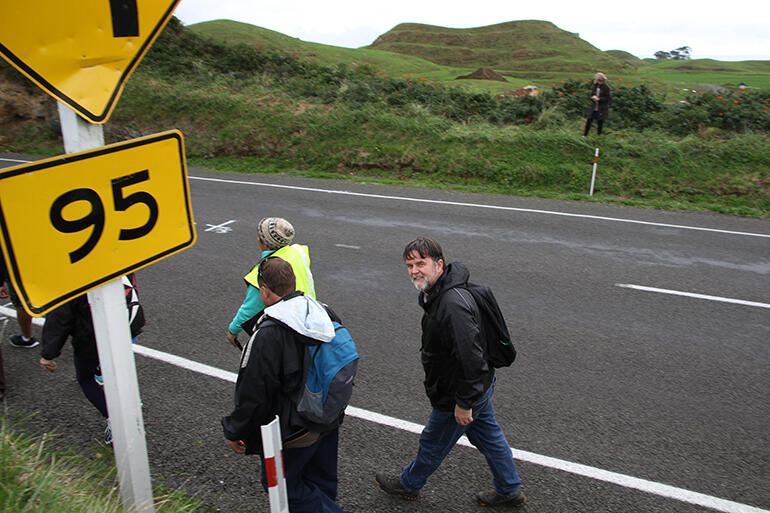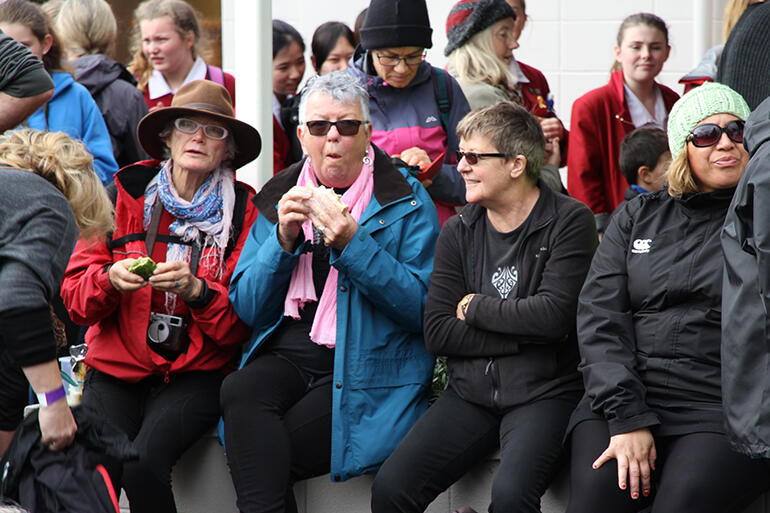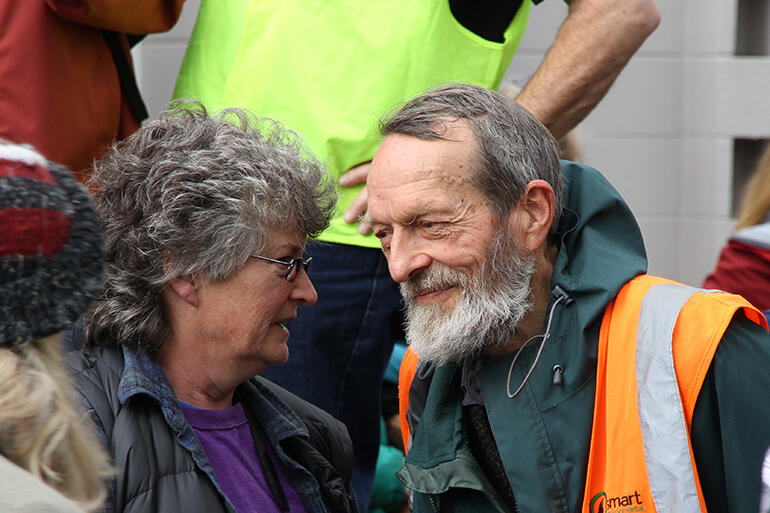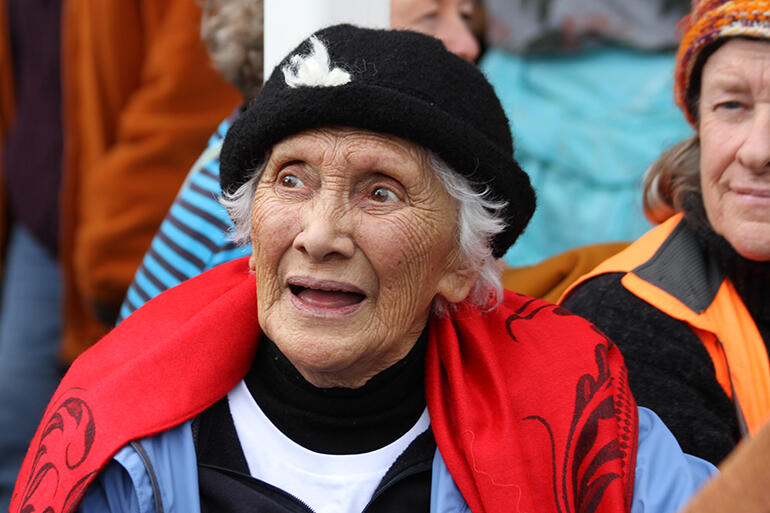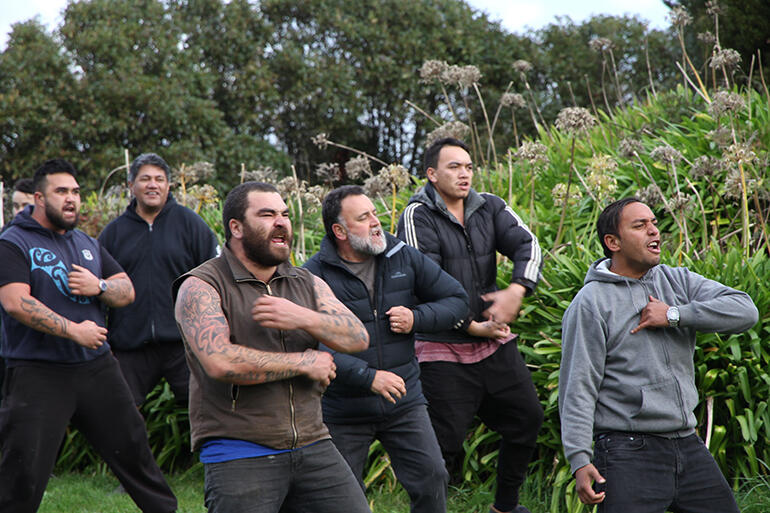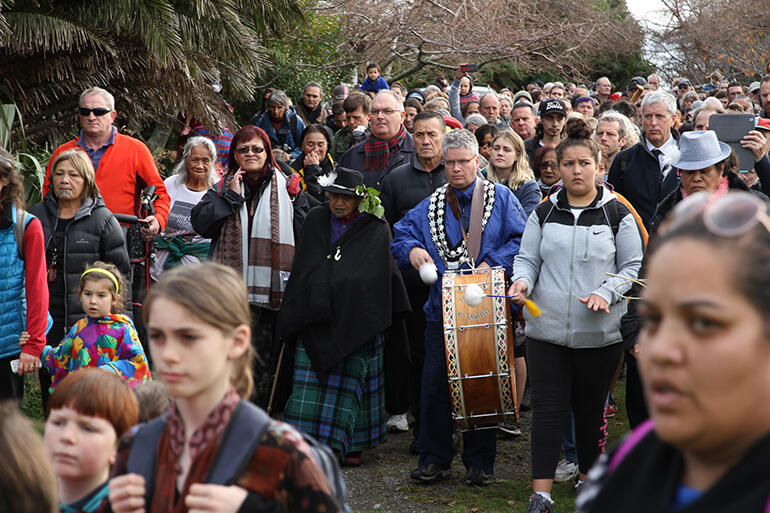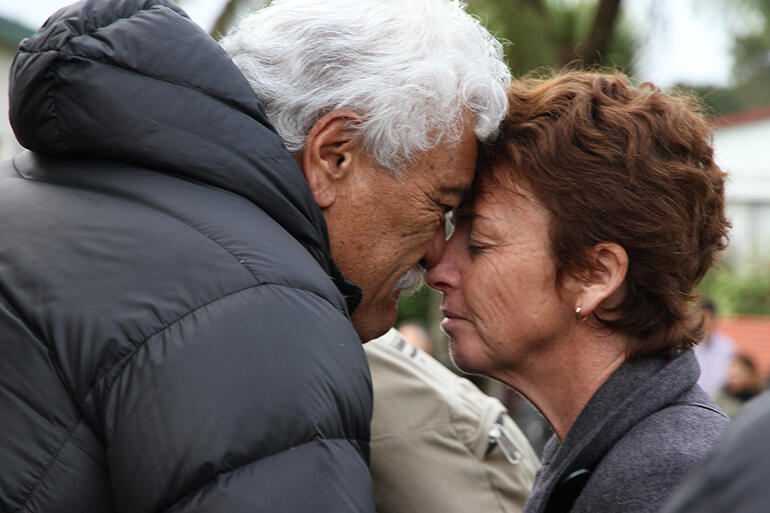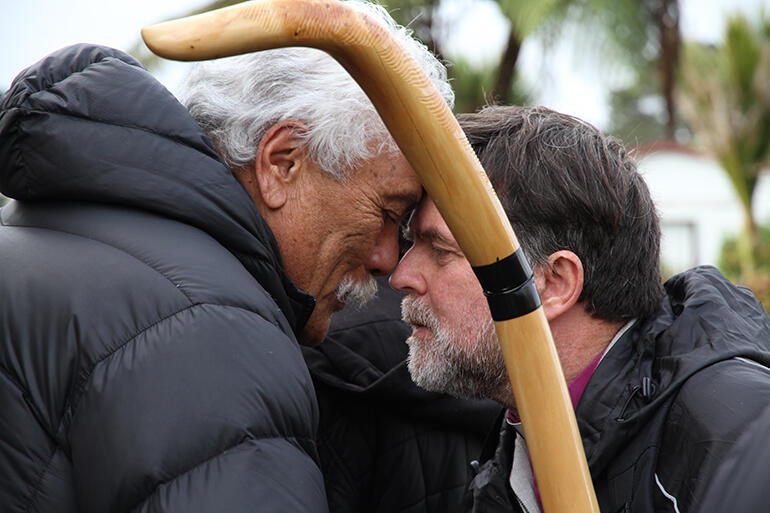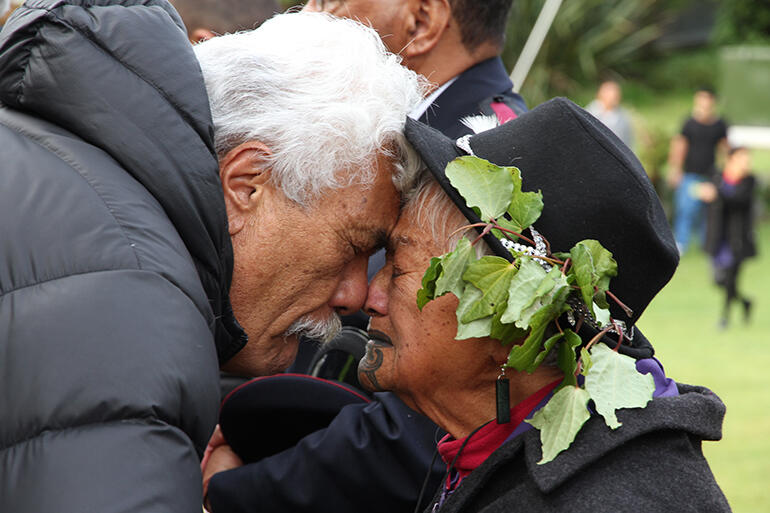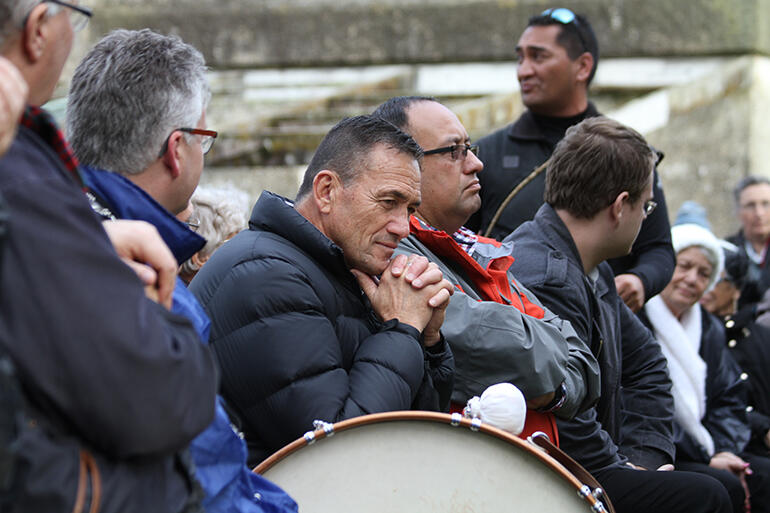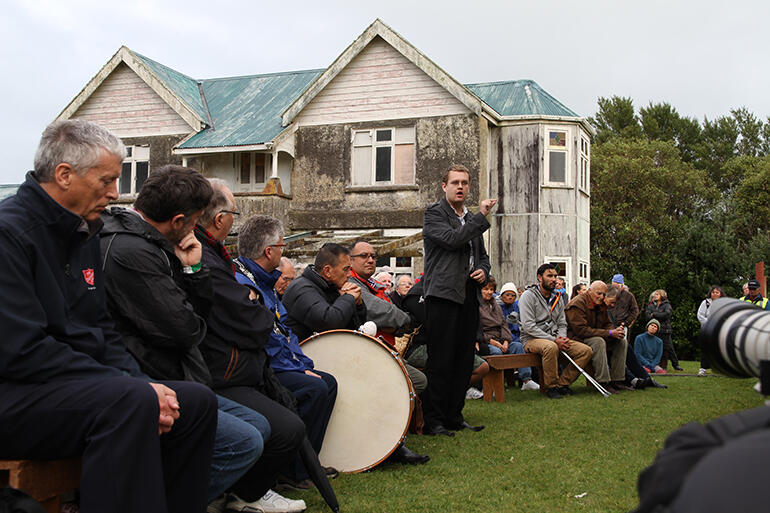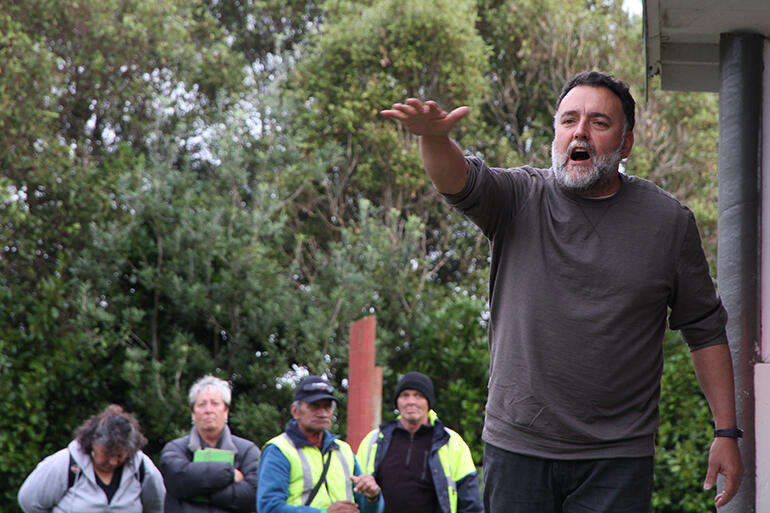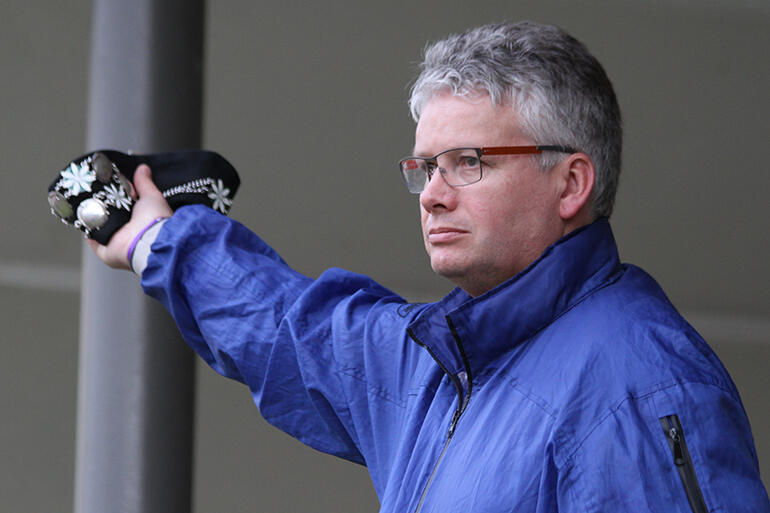 New Plymouth's outgoing mayor Andrew Judd – who describes himself as a "recovering racist" – led about 500 peace walkers on to Parihaka Pa yesterday.
They'd walked 20 kilometres on the third and final day of their 45km Peace Walk from New Plymouth, their numbers had doubled between the start of the day and journey's end – and the people of Parihaka honoured them for their longing to 'walk into a new conversation between Maori and Pakeha'.
Sure, there was the traditional protocol as the walkers completed the final metres of their hikoi – the keening of karanga, and the waves of thunderous haka led by Taranaki Maori leaders Wharehoka Wano and Ruakere Hond.
But before all that began, a small advance party came out from the pa to meet the walkers.
That advance party came bearing a big bass drum: Haruru ki Tawhiti (To resound from afar), which they asked Andrew Judd to hang around his neck and beat as they walked on.
And in the 17 years that Philip Richardson has served as the Bishop of Taranaki, he'd never seen that happen.
"In my experience", he says, "it's always been the Parihaka people who've beaten that drum. Never the Pakeha."
Little wonder.
Because on November 5 1881, when the 1500 colonial troops marched down that same road into the pa, breathing violence, intent on laying waste to that visionary community, they were led by a soldier beating a bass drum.
So yesterday, the roles were reversed: here came Andrew Judd and his walkers, bringing peace – and the people of Parihaka hung Haruru ki Tawhiti, the drum which resounds afar, around his neck to honour the new place where they were coming from.
When the walkers came on to the pa, Archbishop Philip saw another level of symbolism at work, too.
"When the soldiers advanced on Parihaka," he says, "they were greeted by children who presented them with flowers and with food, and placed flowers into the barrels of their muskets."
The children were at the sharp end yesterday, too.
Because that Parihaka reconnaisance party asked for the Peace Walk children to come to the front as they walked on.
"So here came Andrew, beating a drum of peace, preceded by the children."
"Beautiful."
#
Archbishop Philip says he was encouraged by many things he saw unfold in the course of the three-day walk.
None more so than the support shown by children and by the schools of Taranaki.
"I thought that the schools might have stayed away," he says.
"I thought they might have avoided this as a politicised issue – but in fact, they turned up in numbers.
"As we walked through New Plymouth on the Wednesday, we passed kids who stood on the roadside to waiata us, to do the haka, and just to clap and wave to us. That was pretty moving, really.
"I was talking with the girls from St Mary's (Diocesan School in Stratford) – and they had a real understanding of what the issues were.
"They weren't just there for a jaunt. They'd been well prepared.
"I would have thought that both the Board of Trustees, and the Board of Proprietors of St Mary's school – we have conservative farming families represented on those boards – would have been ambivalent at best and maybe downright opposed to the girls taking part in the walk.
"But they weren't. There wasn't a voice against it. They saw the point of engaging.
"Part of that, I guess, is that Andrew is a member of their Board of Trustees. So they know him, and his daughter is a pupil at the school.[1]
"But that doesn't account for the support from Opunake High. That doesn't account for the turnout from Sacred Heart Girls' College, and that doesn't account for Spotswood College, who did the most amazing haka to welcome us when we arrived at Oakura on Wednesday evening.
"So I think the large numbers of young people who supported us – that's hopeful."
#
"The conversations on the road were the best part, really.
"Of course, that's what Andrew was trying to achieve: that as you walked, you talked.
"It was a kinda nice play on 'walking the talk.' That's what he was hoping people would do.
"I had some fascinating conversations – and I overheard some, too.
"I was walking behind the guy carrying my rakau (stick/crozier). And this Maori guy said to the one who was carrying it – 'That's a nice carved stick – where's that from?'
"The rakau carrier said: 'It's the bishop's.'
"And of course I was walking right behind them both.
"And the Maori guy said: 'Oh, these Anglicans – you know, they've always stuck with Maori. They've stuffed it up a few times. But they've stuck with it. And they're here now.'
"I felt pretty good when I heard that."
#
"I have lived in this community for 17 years.
"To have this community characterised as racist and redneck because of the proposals around the Maori ward has been pretty distressing.
"I certainly have experienced all of those elements in Taranaki in those 17 years.
"But I've experienced them elsewhere in the country as well.
"This is a province where the wounds of what happened here – the confiscation of land and the alienation of Maori – are great and undeniable.
"But it is also the province of the extraordinary witness of Te Whiti o Rongomai and Tohu Kakahi – and both things are wound up in who we are as a community here.
"So I think this walk was a reflection of us at our best, both as Taranaki people, and as New Zealanders.
"This is a remarkable province, with a remarkable story.
"And the story is quite liberating – when you allow it to be.
"I think that was the central discovery of these three days – we found that there is a liberation in a kind of honest confronting of history, and a willingness to share that."
[1] He's also a parishioner at St Chad's, West New Plymouth.