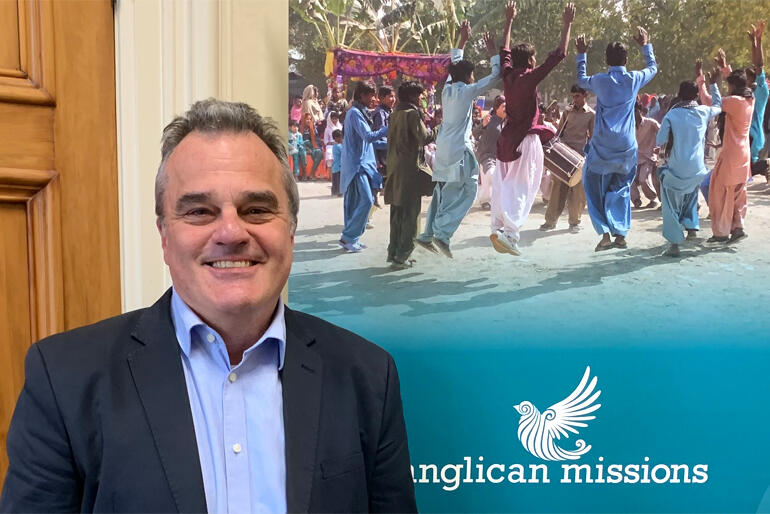 The Archbishops have appointed international aid and development specialist and lifelong mission enthusiast Michael Hartfield as National Director of Anglican Missions to help the Board carry its vision for three-Tikanga driven mission into the years ahead.
"Michael Hartfield brings a depth of experience and proven skills to his understanding of mission and development beyond borders." said Anglican Missions Board Chair, Archbishop Philip Richardson.
"He will be able to play a pivotal role in revitalising and strengthening the work of the Anglican Missions team as they move ahead with our Te Ara Hou strategy."
Archbishop Philip also paid tribute to Anglican Mission Deputy Chair Steve Perris who he said has "managed a careful, respectful and comprehensive process of change through prayerful, faith-filled leadership."
Michael Hartfield has been part of the Anglican Missions team as Operations and Projects Officer since 2017 and part of its wider circle of supporters all his life.
He arrived at Anglican Missions three years ago from a career in international development, most recently in the role of Development Manager for Disaster Risk Reduction for the New Zealand Government's Ministry of Foreign Affairs and Trade (MFAT).
Between 2006-2016 Michael helped the NZ Government as it supported Pacific communities to reduce the impact of natural disasters – making sure risk reduction and resilience strategies were built into both development and humanitarian aid programmes.
Back in 2016, when Cyclone Winston hit Fiji and Anglicans supported the Anglican Missions' Appeal for Maniava, Michael Hartfield was working in the MFAT Emergency Crisis Centre and was regularly the voice on the other end of its 24/7 natural disasters duty phone. In his work at MFAT, Michael developed a keen understanding of how advance planning can change outcomes for communities facing disasters.
Michael made his shift to MFAT after five years as Communications Manager for the Council for International Development (CID), which he landed in 2001, soon after he gained a Masters in Development Studies from Victoria University Wellington. Part of his role was to manage the regular meetings of 20 Aotearoa-based humanitarian NGOs that met to coordinate with MFAT in both preparing and responding to natural disasters in the region.
Before that, Michael worked as a town planner in Whanganui and Wellington City, where he consulted with different groups to identify and add sites of significance to Mana Whenua and Pākehā built heritage into the city's District Plan.
But none of this gets to the roots of why Michael Hartfield has such a commitment to working for a mission organisation.
"I remember coming away from my first meeting with Michael just stunned by how passionate he was for the work of Anglican Missions," said Steve Perris, Anglican Missions' Deputy Chair.
For Michael Hartfield it goes without saying that mission is an integral part of life, because for him, mission has always been there.
For starters, back in 1962 he was born in the mission field, in Nigeria, to parents who were Methodist medical missionaries. Michael spent his first nine years living with his parents in a town not far inland from Lagos in Nigeria, where his father worked as a doctor in a Methodist hospital.
After the family moved to Aotearoa New Zealand, missionaries and talk of mission was a constant part of his life. Visiting missionaries stayed with the family on furlough, and supporting missions was a priority to his parents. Michael's parents, Meg and Jonathan, were long-time organisers of the Whanganui missions supporters group and Meg served for a number of years on the NZ Church Missionary Society Board.
Not surprisingly, Michael has been on Anglican Missions' radar for some time. Former Missions Board CEO Ron Taylor was the first who tried to entice him to come into the fold in the 1990s, but at that time his study came first.
Michael has been a regular at St Hilda's Island Bay for 25 years, but before that he had his own taste of an in-person church start-up. He was chosen as part of a faithful dozen who went out from Holy Trinity Hounslow in West London to plant a new church with a mission to the large ex-pat South Asian communities living there.
Michael remembers it felt like overseas mission, where learning about others' culture was a big feature and he recalls the founding vicar learnt both Hindi and Gujurati as part of his commitment to get alongside and understand the communities they were ministering in.
:: :: :: :: :: :: :: :: :: :: ::
Now that he's on board, Michael is keen to ensure Anglican Missions is the agency of choice for Anglicans and Anglican institutions in this part of the world – not only churches, but schools and anyone else who wants to help others – and to put their resources into that. Michael is keen to back the Board's new direction, which he thinks will get Anglican Missions to where it needs to be.
"We have a new strategy, Te Ara Hou or 'a fresh wind, a new breath', which gives us a clear strategic focus for our ongoing work and will help us to prioritise the projects and places where the three-Tikanga Church funds mission."
"One of the fundamentals of a good development model is that it is led by the people that you are wanting to support."
"So we need to plan together so that our projects are sustainable, and they don't have any negative impact on the environment, or on the cultural and social norms of people we are supporting. The days of charging in and saying 'We've got the money and this is how it's got to be done,' are long over."
Michael was pleased to see how that "working together" model was very effective in the Polynesia Covid-19 Response Appeal this year.
"In Polynesia, the crisis response work is led by the Pacific communities – and in our role as Anglican Missions we are coming in behind, contributing funds to back them in their work."
"Other agencies were very impressed with the way the Diocese of Polynesia went out often into isolated rural communities and assessed people's needs and responded. The extraordinary work and their good reputation means we have the chance to partner with other funders too."
Anglican Missions' wider Te Ara Hou strategy calls for a renewal of this Church's approach to mission that emphasises Tikanga-initiated mission, building cooperative relationships to maximise mission capacity, and at the same time staying nimble enough to meet evolving mission needs.
"There is so much good work to build on." said Michael, "and I stand on the shoulders of all those who have gone before"
"We can demonstrate that projects Anglican Missions have supported in the past have clearly benefitted people, they have given people life and faith and hope and we will build on that."
"We want to work closely with all our generous supporters and tell those good stories."
Michael is married to Jane Hartfield, a midwife at Wellington Hospital and their children are Benji (21) who is an artist and Olivia (18) who is following in her father's footsteps and undertaking a degree in Development Studies.