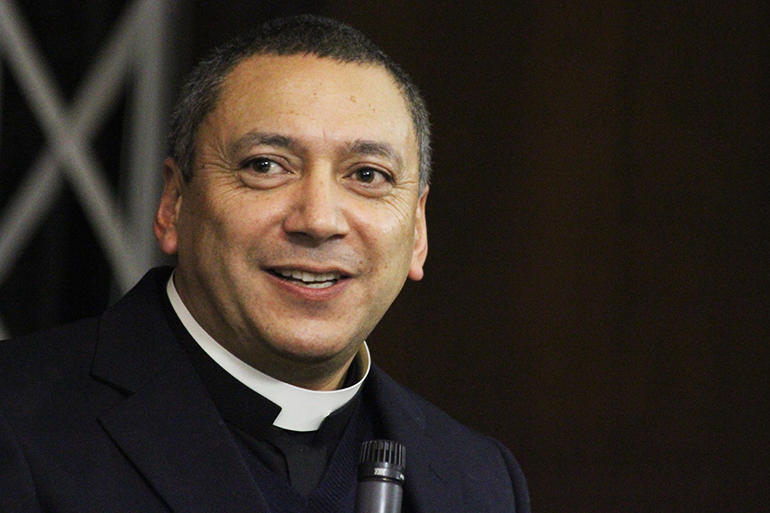 The Board of Governors of the College, Te Kaunihera, has announced their appointment of Ven Katene Eruera as the next Manukura - Principal of the College.
Katene who is Te Rarawa, is currently Te Ahorangi - Dean Tikanga Māori at the College, a position he has held since 2013.
He will succeed Rev Canon Tony Gerritsen who retires in December 2019 after six years in this inaugural role as Manukura of the College.
Archdeacon Katene completed his first degree in Social Anthropology and Politics from the University of Auckland in 1992, before studying law at Victoria University in Wellington, graduating in 1996. For the next fifteen years he worked as a barrister and solicitor with a common law and Treaty Claims practice while ministering in Te Pihopatanga o Aotearoa as kaikarakia as a deacon and then priest.
In 2013 Katene completed studies at St John's College and graduated with a B.Theol from The University of Auckland. After being ordained as a priest the same year, he worked for several years in the Whangarei Māori Anglican Pastorate where he was also appointed Chancellor for Te Pīhopatanga o Aotearoa, and a Trustee of the St John's College Trust Board. In 2006 he completed a Master's degree in Theology, graduating with First Class Honours. He has recently commenced doctoral studies.
In 2010 Katene joined the Royal New Zealand Air Force as a chaplain and subsequently saw operational service on deployment in Timor Leste. A transitional role followed as Locum Rector in the Parish of Alice Springs, including a ministry with Aboriginal communities. For the last six years as Dean Tikanga Māori, he has been a member of the College's senior leadership team, involved with the strategic and operational management of the College and responsible for modelling missional leadership in a three Tikanga environment. He completed a Certificate in Tertiary Teaching from AUT in 2016 and currently is teaching academic and formation programmes.
While Katene sees himself providing continuity of direction for the College, he also looks forward to offering a fresh perspective for leadership: "I am committed to the vision of the College as a place of theological excellence for the Church, both nationally and internationally," he says, "[which is] capable of graduating the next generation of effective and ethical religious leaders for Anglican ministry and mission."
In his current role, Katene has been actively involved in the educational philosophy, curriculum design, educational culture and pastoral care initiatives of the College, all designed to enable students to succeed in their academic and formation training.
"I believe part of my role is to ensure a positive and collaborative relationship with staff and students." he said.
"Working together, I am confident that we can build on what has been achieved and develop an inclusive, equitable learning environment for students from diverse backgrounds and different Tikanga that will serve the Church well."
Katene will take up his position at the start of 2020.