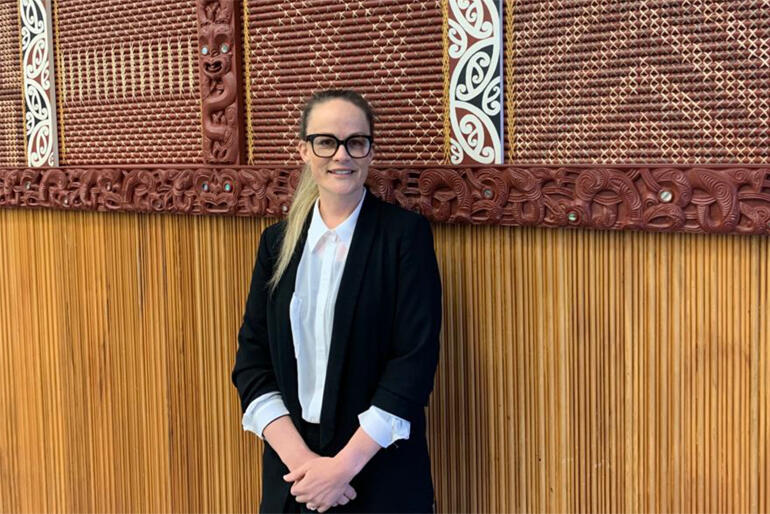 St John the Evangelist Theological College has announced that Dr Emily Colgan will take up the role of Manukura (Principal) next month with responsibility for oversight of the historic College as it delivers Anglican ministry formation and academic theological education.
Dr Colgan steps sideways into the Manukura role from her position at Trinity Methodist Theological College in Auckland, where she recently served as Acting Principal and has lectured in theology and biblical studies for the last eight years.
Emily Colgan says her love of theological education and ministry formation in the context of Aotearoa and Oceania is what drove her to come forward for this role.
"I am passionate about theological education, especially here where we can shape our theology in the context of Aotearoa and Oceania. The Manukura role is an incredible opportunity to be part of helping our Church to do that."
Bishop of Auckland Rt Rev Ross Bay congratulated this week and voiced his appreciation for her ministries in his diocese over many years, most recently as a theological educator for Auckland's Diocesan Training Programme.
"Emily is a well-respected biblical scholar with a passion for research and a commitment to our life being grounded in Scripture and what we learn of God through it. She shows a great sensitivity to people and contexts and is very committed to working out theology in an Aotearoa New Zealand and Pacific setting."
Bishop Ross says Dr Colgan brings good listening skills and a proven ability to build trusting relationships with people that helps others develop their own ministry potential.
"At this time in the College's life I believe that Emily will bring the insight and wisdom required to work with the College community to help enable the kind of cultural change that the review is seeking."
Emily comes ready to help St John's maintain its best traditions and innovate new ones in response to its scholars' needs. She is particularly keen to encourage students' holistic learning at St John's.
"I will be listening to and believing the experience of students on campus and working together with them to identify what it looks like to feel safe and supported, so that they can thrive at the College."
Archbishop Don Tamihere, who is Kaitiaki of St John's, recalls Emily Colgan's positive reception when she visited Tairāwhiti as guest lecturer at an Anglican Studies programme there.
"Our tauira were drawn to Emily because of her warm and engaging teaching style, and the affinity that she had for students both young and old." he said.
Archbishop Don describes Emily as a sound academic theologian and he looks forward to seeing the College benefit from her experience as a tertiary educator.
"I have no doubt that St John's College will move to a new level under her leadership, and we're excited about the potential that Emily represents."
Emily Colgan is a committed ecumenist, teaches in a Methodist College, and served as a ministry assistant in Remuera's Presbyterian Community of St Luke, but she is also a lifelong Anglican.
Ever since her mum Pip Colgan started taking young Emily to church at St Aidan's Remuera, she has been part of the Anglican fold. A key part of her ministry as an Anglican has been in youth ministry.
"I have been involved in ministry with youth and young adults for more than 20 years, and I still love translating tricky theological thoughts and questions into ways of knowing that young people can relate to." Emily says.
Today Emily particularly enjoys working with 'Ordinary Saints,' a young adult community in the Diocese of Auckland.
"The young adults are a good test. They are always pushing me to think more, and to think more long-term. It keeps my thinking fresh, it keeps me honest, it keeps my feet on the ground."
A thread of academic distinction runs through Dr Colgan's story, gilding her PhD in Biblical Studies (on Jeremiah, ecological hermeneutics and Aotearoa New Zealand literature), as well as her B.Theol (Hons) in Biblical Studies and award-winning BA in Māori Studies.
Since gaining her doctorate in 2015, Emily has clocked up an impressive line-up of collaborative publications and editorial projects, recordings and presentations, with ecology, activism, violence and gender leading as strong recurring themes.
Included in Emily's collaborative publications are major projects such as the 'Accompanying Survivors of Abuse Toolkit', which sets out a programme for leaders and communities to understand how to prevent and respond to sexual abuse, and the recently published Anglican Communion Eco-theology resource, 'Renewing the Life of the Earth".
Emily wants to diversify those theological viewpoints which ground St John's College curriculum, particularly through theologies written by women and indigenous peoples from Aotearoa and Oceania, which she sees as essential to credible theological education here.
Emily has substantial academic miles on the clock, not only from teaching scores of papers, but from designing entire courses of study.
As Academic Director at Trinity, she worked with colleagues to develop a three-year Bachelor of Theology degree – with majors in Biblical Studies, Theological Studies, Moana Studies and Religious Studies, as well as establishing a new Diploma in Christian Studies and Advanced Diploma in Religious Studies.
Emily explains that as she likes to gather learning materials that respond to students' feedback and draw on colleagues' strengths.
"It's really important to have a diversity of voices working out together what the needs of the church are and what our formation for that is going to be."
"In terms of practical ministry, we are at a crossroads going through a time of change. We need to think about what it looks like to do mission and ministry in our contemporary contexts – and that doesn't look like it used to."
At the same time Emily takes care to develop courses that encourage students' critical thinking, analysis and writing, and present a wide range of scholarship on each subject.
Dr Colgan encourages teaching innovation too, leading by example by adopting different modes of learning, such as the 'Bloody Bible' podcast she co-hosts with Dr Caroline Blythe, multimedia presentations, or interactive learning delivered with 'contagious' enthusiasm for the subject – as one student reported of Emily's teaching style.
As Emily sets out as Manukura, she looks to many who have mentored her along the way. These include former Dean of Auckland Rev Jo Kelly-Moore, St Luke's Minister Rev David Clark and Catholic theologian Dr Elaine Wainwright at the University of Auckland.
She cites Archbishop Winston Halapua as another mentor, especially in encouraging her to look for a theological language that centres on an understanding of Christ embedded in Pacific imagery, cultures and experience.
"Archbishop Winston had such a big influence on my life and thinking. He's an incredibly gentle and generous human being, with so much grace and humour – and so fiercely intelligent. I've learnt so much from him."
Emily also credits her colleagues at Trinity Methodist for an outsized part in making her the theologian and teacher that she is, particularly noting the collaborative work she has done with Principal Nāsili Vaka'uta, Te Aroha Rountree, George Zachariah and Jione Havea.
Dr George Zachariah confirms that Emily has been a great colleague over the four years he has worked with her and he thinks she will be as good for St John's as she has been for Trinity.
"Emily is a renowned Hebrew Bible scholar and academician who is deeply committed to social justice concerns."
George credits Emily with a firm grasp of Tiriti o Waitangi principles in her personal life and work and believes she supports the bicultural journey of the church.
"She is conscious of her privilege and is always willing to be an ally and accompany people at the margins in their struggles to dismantle systems and practices of exclusion and discrimination."
"She is an excellent administrator and she is highly democratic in her practice of governance."
Emily already lives in Auckland and won't have far to move to St John's which is adjacent to Trinity Methodist College. She is married to Rev Richard Bonifant, an Anglican priest who shares her fascination with theological education and ministry formation and they have two children, Maika (11) and Arwen(6).
Dr Emily Colgan will begin as Manukura of St John's College in August 2023.