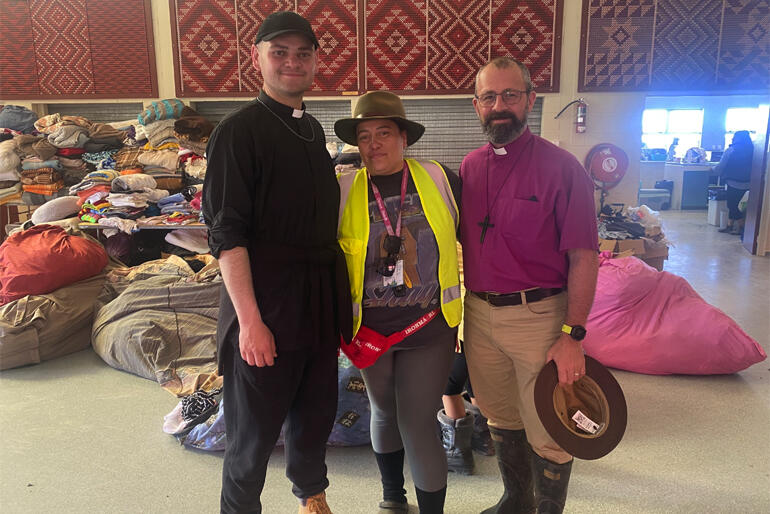 Anglicans on the ground in Cyclone-affected communities have called on wider Church whānau to support the Cyclone Gabrielle Appeal and to direct all offers of practical support through the Anglican Missions Cyclone Response Hub.
The Cyclone Response Hub has been set up in consultation with the Archbishops after the Bishop of Waiapu Andrew Hedge and Lucy Laitinen from Anglican Care Waiapu requested coordination support from Hāpaitia (Anglican Cyclone Gabrielle Response Group) last week.
"It is great to have the support of Anglican Missions to gather any offers of material or practical support, so that we can direct those offers to the people and places that need it most." said Bishop Andrew.
"This prevents people in the disaster zones from having to coordinate their own support, which adds another burden to people already feeling an overwhelming sense of what has happened and what has to be done."
Archbishop Don Tamihere and his team in Te Tairāwhiti agreed there are pastoral and practical reasons to gather response plans in a central hub.
"We're grateful for the prayers and assistance that we're receiving. In the aftermath of a terrible storm, we are seeing strength and resilience, aroha and manaaki in the way that people are caring for each other."
Archbishop Don reports that our local church whānau have been extraordinary.
"Our minita and staff have been working tirelessly. Waiapu Social Services alongside Bishop Andrew and staff have been working hard on the ground. Our iwi and marae have been feeding and housing people in their hundreds and thousands. We can do no better than to support them all and keep them surrounded in karakia and manaakitanga."
Archbishop Don says that when it comes to directing assistance, it is also important for us as a Church to be guided by locals who can best identify who needs the help.
"The people who know best are those on the ground and at the frontlines. Right now they are consumed with the task. We want to be a help to them and not a burden. The work of Hāpaitia will help co-ordinate the early response of the Church, informed by those on the frontlines, to go directly where and when it's needed."
Archbishop Don acknowledges that there will be a long road ahead, and the Church needs to be committed for the long term.
"We're doing our best to meet the immediate needs of our whānau. There are other storms looming as well, in the form of lack of work and income due to loss of businesses and infrastructure. We need to be here for our people no matter what."
Michael Hartfield from Anglican Missions said that so far useful offers of support are flowing into the Cyclone Gabrielle response hub. Backed by Anglican Care Waiapu, Anglican Missions has dedicated 40 hours a week of staff time to the Cyclone Response Hub, whose job is to receive, log and match offers of support with requests for help from people on the ground.
To share your idea or proposal for a support project, please phone the Anglican Missions' Cyclone Response Hub on 04 473 5172 or email info@anglicanmissions.org.nz