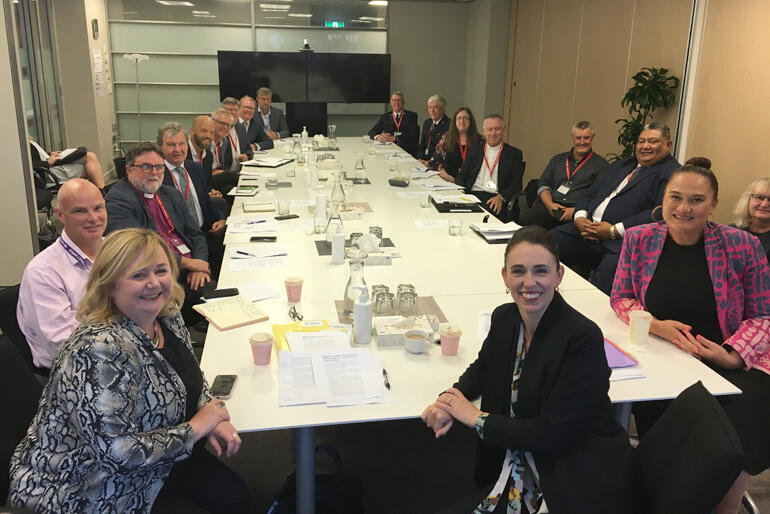 Leaders from Aotearoa New Zealand Christian denominations met with Prime Minister Jacinda Ardern in Auckland yesterday to discuss housing, poverty and the Covid-19 pandemic response, including vaccination.
Archbishop Philip Richardson joined the meeting supported by advisor Rev Charles Waldegrave, who is co-vicar at St Peter's on Willis and Coordinator and Lead Researcher at Wellington's Family Centre Social Policy Research Unit.
Also attending on behalf of Aotearoa New Zealand churches – and their social service agencies working at the coalface of community care – were Catholic Archbishop Cardinal John Dew, Methodist Church Vice-President Rev Etuini Talakai, Salvation Army Commissioner Mark Campbell, Rev Dr Richard Waugh of National Church Leaders' Aotearoa New Zealand and Baptist Church representative Rev Charles Hewett.
Social Development Minister Carmel Sepuloni and Housing Minister Megan Woods attended the meeting alongside the Prime Minister and departmental officials working on social services portfolios.
The agenda for Monday's meeting included questions on the roll out of Covid-19 vaccinations, housing, welfare and income inequality.
In their briefing paper for the meeting, church leaders praised the Government's swift action in granting wage subsidies to people who had lost jobs or income as a result of Covid-19 lockdowns. They thanked the Government for timely aid to foodbanks and the $25 weekly emergency payment and winter energy supplement for families living on income support.
Church leaders also reported ongoing problems connected to the wider issue of unequal income rates between people who had lost wages under Covid versus others, between women and men, Pākehā, Māori and Pasifika people and other ethnic communities.
The church leaders referred back to the Welfare Expert Advisory Group (WEAG) recommendations on policies to shift Government income and housing support beyond a 'welfare system' and into a 'wellbeing system'. Suggestions on housing included improving housing supply, working with third party housing providers in social housing and adding a proportion of affordable housing to new developments.
Church leaders shared the impact of the global Covid-19 pandemic on people struggling in Aotearoa New Zealand, and acknowledged the Government's work alongside Christian agencies during 2020 as they worked to:
• ensure support for kaumātua and isolated elderly people
• support people with anxiety, depression and addictions triggered in lockdown
• find temporary and emergency accommodation
• help people to become digitally connected to counter isolation in lockdown
• meet essential needs such as for heaters, winter clothing and blankets
• support people from overseas working here on temporary visas
Church leaders pledged to play a positive role in educating faith communities about the value of vaccination, including hosting vaccination centres in churches, marae and church buildings to help counter vaccination fears.
In the final section of the briefing paper, church leaders' posed questions to the Government on who can qualify for essential worker border exemptions and asked for clarity on hospital chaplains' essential worker status.
In the context of church advocacy for refugee families and people from overseas working in Aotearoa, the leaders asked Government ministers to clarify which non-citizens and residents qualify to make New Zealand home despite Government Covid-19 border restrictions. In addition, church leaders asked the Government to open a pathway for former refugee families who are separated by pandemic border closures to be reunited in Aotearoa.
Yearly meetings between church leaders and the Prime Minister were established following the 1998 Anglican Church-led Hikoi of Hope, when tens of thousands of church members marched to Parliament asking for action on social and economic matters. The meetings have been held annually since then with few exceptions, such as the 2020 meeting, which was cancelled due to the Covid-19 lockdown.