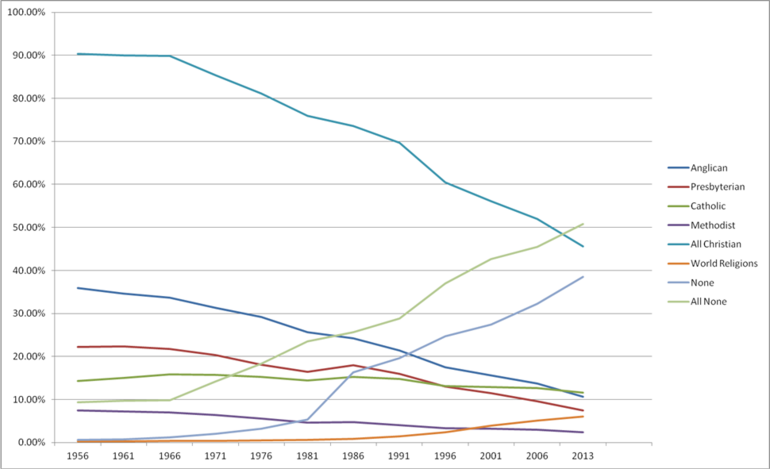 Anglican affiliation has declined 17 percent – from 554,925 to 459,771 – over the past seven years, according the latest census.
Partly this is because the average age of Anglicans is very high.
Last census there were 41,000 Anglicans over the age of 80, only slightly less than those under 10. But this still means that many Anglicans in 2006 have changed their affiliation since then – probably to "none".
Meanwhile, for the first time in New Zealand history Roman Catholics outnumber Anglicans.
Catholics now number 492,324, although they too have declined slightly from the last census.
The big growth has been in those of "no religion," up from 32.2% last census to 38.6% this census.
And when we add in those who objected to state their religion or who didn't answer the question, a majority of New Zealanders (50.82%) now have no religious profession.
The other change, in other religious, has been less dramatic because of the slowing of immigration.
All other religions except Christianity have increased their share of the New Zealand population to 5.99%. The largest group by far is Hindu, at just over 2% of the population, followed by Buddhist, Islam and Sikh.
These figures are perhaps the clearest indication of how New Zealand has changed culturally over recent years.
They will be even more dramatic in some suburbs, but age and regional totals are not being released until 4 February.
Peter Lineham is Professor of History at Massey University.