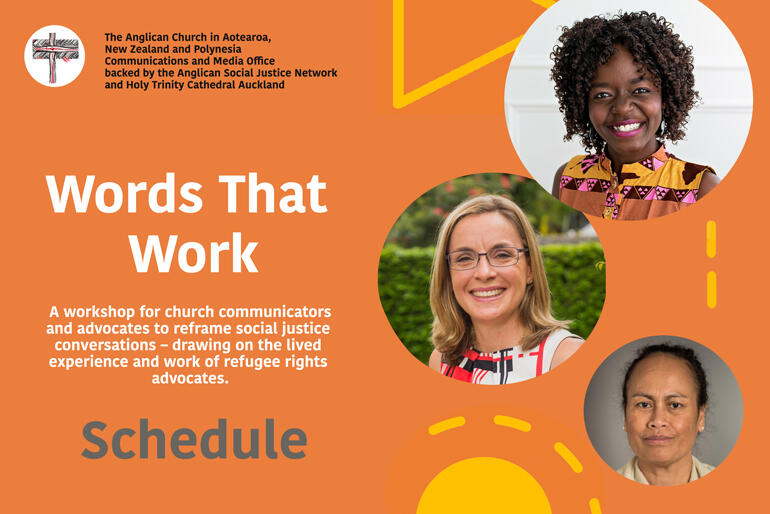 WORKSHOP SCHEDULE 10am – 5pm
10.00am REGISTRATIONS/MORNING TEA (provided by Holy Trinity Cathedral)
10.30am WORDS THAT WORK SESSION ONE
(10.30am-12.30pm with 15 min break)
Introductions and Re-framing the Conversation
In the first session our speakers, Kagi Kawa and Michelle McDonald, will introduce themselves and their work as community educators and organisers in the Australian refugee advocacy sector.
We will then summarise the ASRC's groundbreaking 'Words That Work' research and discuss alternative ways to frame advocacy conversations using values-based, solutions-orientated framing that above all humanise peopleAs part of this session we will encourage workshop participants to explore how the language principles underlying Words That Work can be applied to areas of advocacy that they are engaged in.
12.30pm LUNCH (12.30 – 1.30pm)
WISE Catering (a training and development organisation run with women from refugee background communities in Auckland) will present a Burmese Chin and Kurdish lunch menu for Words That Work.
1.30pm WORDS THAT WORK SESSION TWO (1.30pm-3.30pm with 15 min break)
Embracing Narrative Approaches in Social Justice Communications
In the second session, Kagi and Michelle will discuss the effectiveness of using narrative approaches in written and verbal communications in order to win hearts and shift minds.
We will learn an easy four-part persuasive writing and conversation framework to improve social justice advocacy.
3.30pm AFTERNOON TEA (provided by Holy Trinity Cathedral)
4.00pm DEVELOPING AND ADAPTING FOR DIFFERENT CONTEXTS (4pm- 5pm)
Rev Dr Katalina Williams will lead a response session on adapting the Words That Work principles for a theological framework and looking at strategies for using new Words That Work in the advocacy spaces and faith communities we live and work in. Katalina will encourage participants to share their own insights on how to adapt Words That Work and draw on her experience of working with people in ministry across a wide range of contexts and callings.
5.00pm WORDS THAT WORK WORKSHOP ENDS
Download this schedule in PDF below