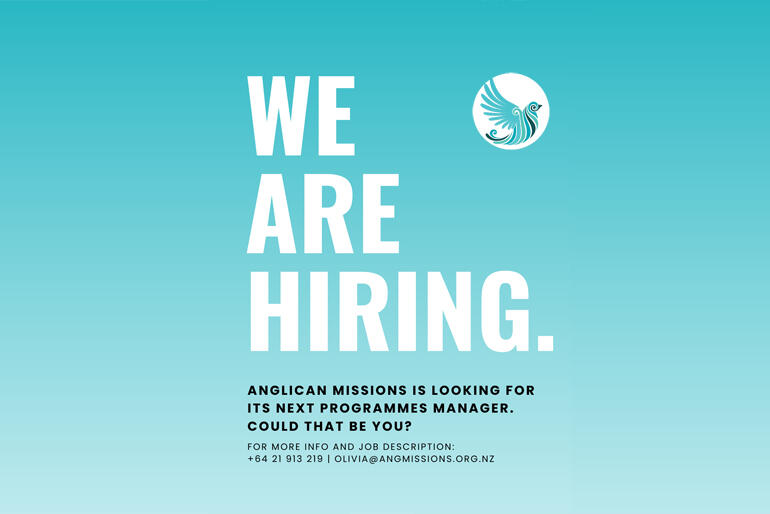 Anglican Missions – the mission, aid and development agency of the Anglican Church in Aotearoa, New Zealand and Polynesia – is seeking a new programme manager to oversee its work in international development and humanitarian aid.
WHO ARE ANGLICAN MISSIONS?
Anglican Missions is an international development and humanitarian aid agency that works on behalf of the Anglican Church in New Zealand and Polynesia. We're a small, dedicated and friendly team based in central Wellington. We're motivated by putting the love of God into action and bringing hope to people who are vulnerable and living in poverty.
We support a range of partners to carry out Christian mission, development and humanitarian aid, working collaboratively with a range of agencies both here and internationally.
We currently have projects in nine countries - a number of these are in the Pacific. These are all focussed on changing lives through improved health, education and greater resilience in the face of natural disasters. We're committed to the advocacy of social and economic justice through our projects.  That's where you come in.
WHAT WOULD YOU DO?
You'll manage our international development and humanitarian aid projects, ensuring we're working within budget and meeting international best practice commitments. You'll also be responsible for managing staff in our small but growing Projects Team.
You'll design and appraise new projects, provide ongoing monitoring and conduct end of project evaluations. You'll represent Anglican Missions on the Council for International Development (CID), and speak at churches, training days and workshops. You'll also be our key liaison with partner agencies. You'll also need to travel internationally from time to time - mainly to Polynesia, where many of our projects are located.
WHO ARE WE LOOKING FOR?
We are looking for someone who:
● Has a background and/or a relevant tertiary qualification in international development and/or humanitarian work (or similar).
● Has a strong understanding of international development and humanitarian best practice.
● Can manage cross-cultural and remote teams.
● Is a good communicator with the ability to motivate and enthuse partners and donors.
● Has the ability to organise heavy workloads, forward-plan and prioritise, meeting deadlines and heavy workloads with resilience and perseverance.
● Is legally able and willing to travel internationally.
● Can contribute new ideas and creative solutions to the team/organisation.
● Has excellent interpersonal and relational skills with people of all types.
● Is inspired and energised by our team and the work we do!
If you don't think you have all the skills or experience we're after, but have other uniquely relevant value to add, feel free to get in touch or apply.
WHY US?
We offer: 
● Flexible and family-friendly working arrangements. 
● A positive and supportive work environment in a strengthened and refitted Victorian villa right near the centre of Wellington (very close to public transport).
● A carpark if required.
● A sense of fulfilment working in an organisation that makes a difference in the lives of people.
While this is a full-time position, we would consider a job-share. While working from home is an option, our preference is for someone who can mainly work in the office. Salary will depend on qualifications and experience. Applicants will be required to pass a police check and legally be able to travel internationally.
Innovation thrives in teams where diverse points of view are welcomed, so we seek people that bring diverse life and work experiences.
SOUND LIKE YOU?
If you are interested in a job description or you would like to apply, please get in touch with: olivia@angmissions.org.nz
Applications close at 5pm on Tuesday 28 June. Please note that we will extend the application time if necessary.