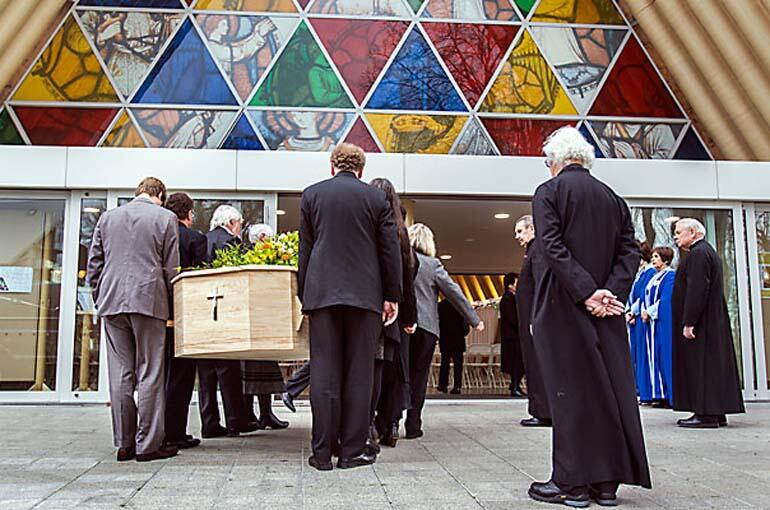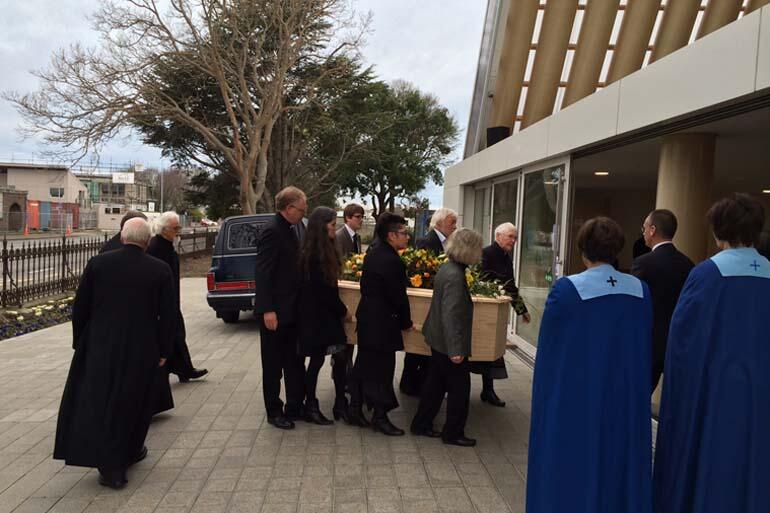 Around 30 members of Dean Lynda Patterson's cathedral community received her at 10am today.
Bishop Victoria Matthews and Archbishop Philip Richardson led the cortege of eight cathedral staff bearing Lynda's body into the Transitional Cathedral: Nick Mountfort, Carolyn Harmon, Moka Ritchie, Nicky Lee, Rosalie Hoddinott, Chris Oldham, Brian Law and Grant Bennett.
"Lynda treated us like family here at the cathedral, so it was important for us to be here to welcome her back," one of the bearers said.
Psalm 27 was recited as Lynda was restored to the heart of the community that loved her.
Verse four reads:
"One thing I asked of the Lord, that will I seek after: to live in the house of the Lord all the days of my life, to behold the beauty of the Lord, and to inquire in his temple."
Cathedral regular Moka Ritchie joined cathedral staff to walk beside Lynda's body this morning.
"This week has been very difficult." she said. "Lynda held everyone together here, she's always had that laughter and prayer at the right moment."
Bishop Victoria has a big day ahead of her, but she took time to express her personal loss with the nation through television.
"It is hugely sad. Lynda was a great friend and a great colleague and someone I admired beyond..." Bishop Victoria paused. "Lynda, thank you for everything."
The casket is installed before the altar of the Transitional Cathedral, which is open for prayer and reflection until the funeral begins at 1pm.
Lynda will be farewelled with the requiem mass she chose, Messe à deux chœurs et deux orgues (Mass for two choirs and two organs) by French composer Charles-Marie Widor.
Bishop Victoria is looking forward to giving Lynda the send-off she would have wanted.
But she's not sure it will be possible. "I wish I were half as good a preacher as Lynda," she said.
"Today I want to honour a life in Christ that gave glory to God."