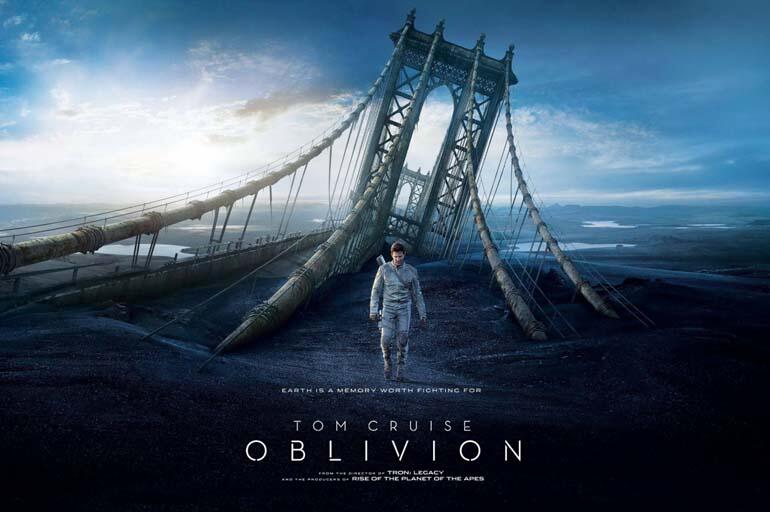 Oblivion (2013)
DVD Released August 14, 2013. Rated M, violence & nudity. Based on the graphic novel and original story by Joseph Kosinski. Starring Tom Cruise, Olga Kurylenko, Andrea Riseborough. Director Joseph Kosinski
Oblivion complicates an already complicated story.
The opening narration sets the scene with imagery of a new earth.
War against other-worldly 'Scavs' (scavengers) paves the way for nuking of the earth. Mission-control, a mechanized 'Vat' in space, is a gateway for humans to escape to another planet.
Enter Jack (Tom Cruise) who is converted to the drumbeat of 2077 because his memory is wiped.
But he is a thinker – and he gets memory flashes, an often repeated idea in science fiction movies.
His 'real self' seems buried beneath layers of conditioning.
Jack needs to be set free, and truth may do that. His discoveries on tour ultimately turn the story on its head.
His mission is to repair drones and secure the earth from a remnant of 'Scavs', and his 'tour of duty' with Victoria (Andrea Riseborough) is nearing an end.
She is emotional and by the book in an arranged partnership that is surreal and intimate.
Even so, Jack and Victoria's intimacy is comforting in a basically frightening, chaotic future.
The environmental issues recall the saying, 'sign of the times'. But the movie may frustrate you.
It is mind blowing but not straightforward.
In the second half you may turn back the 'pages' instead of ripping into the moment.
Peter Veugelaers writes poetry, non-fiction, stories and reviews.