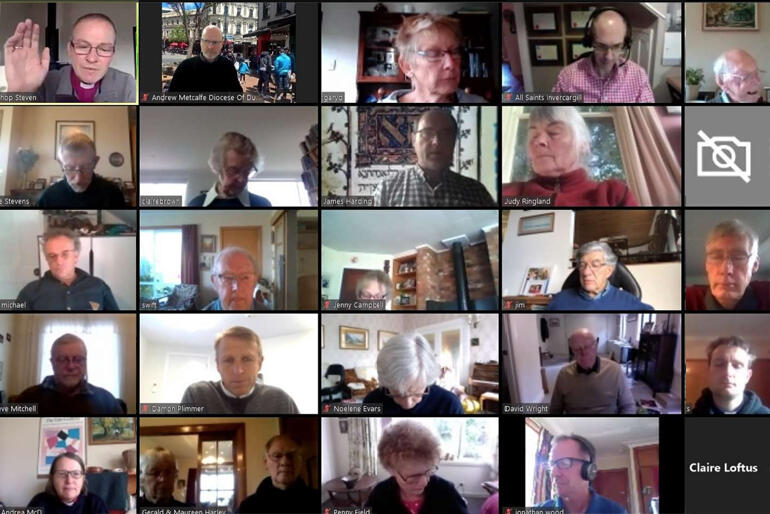 The writer of the New Testament Letter to the Hebrews reminds readers that in the past God spoke to our ancestors "in many and various ways", words that echo in me in the way the COVID-19 lockdown has affected our churches, and in the many and various ways we have responded to it.
While the responses have been varied, the rapidity with which we were obliged into making decisions about how we act, and universal closure of public, congregational worship came to us as quite a surprise.
Different ministry units inevitably reacted in different ways.
Circumstances dictated in large manner how we responded: technology came to the rescue for many congregations, with Zoom Meetings providing a means of contact, fellowship and worship.
A number of ministry units reported more participants tuning in via Zoom than usually attended in person, and provided a significant social benefit during the time of more strict travel restriction.
"I couldn't get them to stop talking afterwards" reported one Zoom worship host.
And Zoom is not limited to the more technologically able with first-time users quickly recognising the process, customs and habits.
A number of churches adopted a pre-recorded service, often involving people from the congregation contributing items and sending them in for editing and assembly, and then posting the service on social media platforms.
Reports of views reaching the hundreds and coming from around the world reminds us of the universal nature of church – the communion of saints – finding an expression.
The closure of buildings has inevitably caused us to look again at what it means to be church.
In the history of our faith, disturbance can frequently be a forerunner of development and growth, returning us to the fundamental elements of our faith.
Phone calls and letter writing have enabled the less computer-savvy to keep in touch, and with the possibility of community meeting taken away this contact has been more regular and valuable.
A number of us have benefitted from a regular and communal opportunity for Morning and Evening Prayer – across the diocese, and at times even more widely.
I was very moved to hear how two sisters – both recently coming to faith in Jesus Christ – were able to worship together for the first time, despite living in different countries.
Perhaps in time we will have to deal with a complacency that has allowed some of us to tune in and take part in corporate worship from the comfort of our own homes, and in some cases from the comfort of our own beds!
Leaving technology and congregational worship aside, the COVID-19 restrictions have enabled some of us to look again at what it means to be a follower of Jesus Christ, and where it is we find our identity and our sustenance.
I have heard how the inability to share in the Eucharist has awakened a hunger for, and fresh understanding of, the sacramental side of our faith; as well as showing us the reality of what is the norm for many of our Christian brothers and sisters who have no regular access to communion.
"Spiritual Communion" has been helpful for some, and not for others, which reminds me again of our diversity and variety.
I have been particularly amused to see how Zoom Services allow a range of expressions for attendees: those who arrive early as well as late, who are eager to be seen and heard or prefer to take the back pew, the loud and the silent… all these seem to find an outlet in "virtual" services as they can in physical church buildings.
Overall I have been very encouraged by the response of the church to the situation imposed, though again like many, I am excited at the prospect of meeting again in person, and continuing to learn with and from each other what it means to be followers of Jesus Christ.