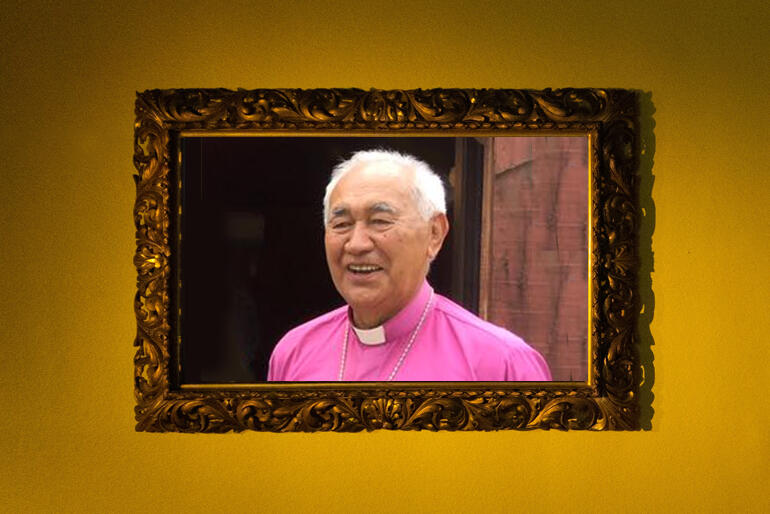 Born in 1932, Waiohau Rui Te Haara, known affectionately by his many friends as simply 'Ben', was from the Ngāti Rangi hapu of Ngapuhi, with close connections also to Ngati Kuta of Te Rawhiti.
Ordained a deacon in 1961 in the Diocese of Auckland, and a priest in 1962 after attending Northland College, and spending much of his youth in the Bay of Islands learning the art of fishing, Ben went to St John's College at Meadowbank to prepare for a lifetime in ministry.
Following ordination Ben served his first curacy in the Parish of Mount Eden, Auckland between the years of 1961 and 1964. Married to Gwen Hansen, Ben moved next to a second curacy in the Parish of Northern Wairoa, where he served with the redoubtable Father Burton until moving to become Vicar of the Parish of Coromandel in 1967.
In 1971 Ben and Gwen, along with their two children, Keri and Mark, moved to South Auckland, where Ben took up a role as a member of the Team Ministry in Mangere until 1980. During this time his ministry included a stint as a priest member of the so-called "J Team", working with Police and Department of Māori Affairs colleagues amongst the youth of South Auckland.
From 1980 to 1982 Ben served as Chaplain to the Auckland City Mission, at a time when homelessness and poverty were beginning to become serious issues in the city. Those of us who knew Ben in those years seldom heard him use his own Māori tongue, although it was his first language. He spoke clearly and fluently in English, as the people he was working amongst mainly used that language.
However, in 1982 he was called to an important Māori ministry as the Vicar of Ohinemutu, Rotorua, combined with the tasks of Minita-a-Iwi in the Waiariki Rohe of what was then the Diocese of Waiapu. This role covered a district which included Ohinemutu, Te Ngae, Te Puke and Taupo, and Ben's use of his own tongue increased significantly.
In 1987 he was appointed as Te Kaituhi, Secretary of Te Pīhopatanga o Aotearoa, and this was to last for two years until he was called to return to Te Tai Tokerau, serving as Archdeacon- Tumuaki of Te Tai Tokerau from 1989 to 1992.
Ben was held in great affection and respect both by his colleagues in ministry, and by the lay people amongst whom he served. Lovingly supported by Gwen, they made friends wherever they served. Ben once told me that on the occasion of his ordination as a deacon, a Ngāpuhi kaumatua touched the sleeve of his white surplice and said quietly: "He kakahu ma tenei, kaua e whakaparu." This could be rendered in English as 'this is a pure white garment, do nothing to soil it'.
Takoto mai ra, e kara, kei waenganui i te iwi.
The Most Rev John Paterson is a retired Bishop of Auckland and former Primate of the Anglican Church in Aotearoa, New Zealand and Polynesia.