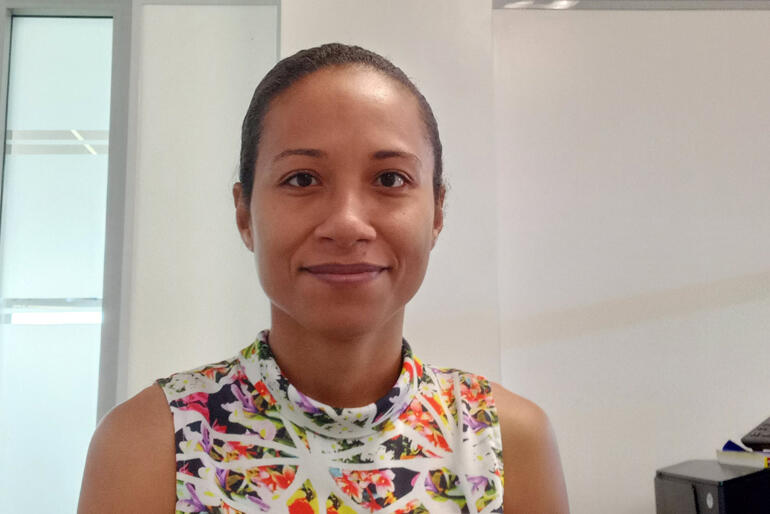 Anglican Missions and the Anglican Diocese of Polynesia have welcomed Ms Karen Chute Delaivoni to the team this week, as she takes up her new role as Diocese of Polynesia Development and Humanitarian Aid Project Manager.
Karen, who holds a strong Christian faith and is a regular at St Leonard's Savusavu, took up the new role for the Diocese on 16 December 2021.
Karen will manage ongoing diocesan development projects, including water tank installations and supporting communities' Covid responses, and will help fortify the diocese's ability to prepare for and respond to natural disasters.
Now, she is setting out to learn about the wider diocese, its churches and the communities they work with.
"I'm looking forward to meeting people around the Diocese and finding how best to support them to plan, build networks, consult, strategise, implement, monitor and evaluate project activities for the best way forward."
Karen brings strong experience in development to the new role, particularly in cyclone preparedness and response. Since she gained her Degree in Environmental Science and PG Dip. in Climate Change response four years ago, she has worked for the
– Pacific Centre for Environment and Sustainable Development
– Live and Learn Environmental Education organisation, and
– Save the Children Fiji
Across these organisations Karen has worked in the areas of logistics, community liaison and communications and during Cyclone Winston, she served as a food security and livelihood support officer.
In her new role Karen will coordinate, monitor and evaluate a range of diocesan long-term development projects, including:
– Water tank installations in rural areas
– Ongoing Covid-19 response
– Community Integrated Vulnerability Assessment (CIVA) training
– Pre-positioned cyclone relief supplies
– Post-disaster mental health training for leaders
–Diocese of Polynesia post-disaster food security & agricultural support programme
– Networking with NGOs to coordinate aid responses
Many aspects of the new role have been part of Karen's current position at Save the Children Fiji where she has been working as a Communications Officer for the Australian Humanitarian Partnership (AHP).
"This position has been a long time coming and we are delighted that Karen can join us." said Anglican Missions' Director Rev Michael Hartfield.
"We are looking forward to the positive impact that we know she will bring."
Diocese of Polynesia Registrar Rev Sepiuta Hala'api'api said the Diocese is blessed to have Karen on board.
"Her expertise will help us as a Church to better respond to several of our key ACC mission goals: meeting human need by loving service, transforming unjust structures of society, challenging violence of every kind and safeguarding the integrity of creation."
Karen hails from Udu point, Nakula Estate and she is married to lifelong Anglican Benjamin Metui Delaivoni who comes from a strong Anglican family. They have two young daughters.
"I am passionate about community-based projects that will help improve the lives of families and children in our local communities." said Karen.
The Diocese of Polynesia's new Development and Humanitarian Aid Project Manager Karen Chute Delaivoni will work closely with Anglican Missions' Projects Manager Steph Fry and the Anglican Missions' team in Wellington to support the Diocese of Polynesia's work across the development and aid fields.