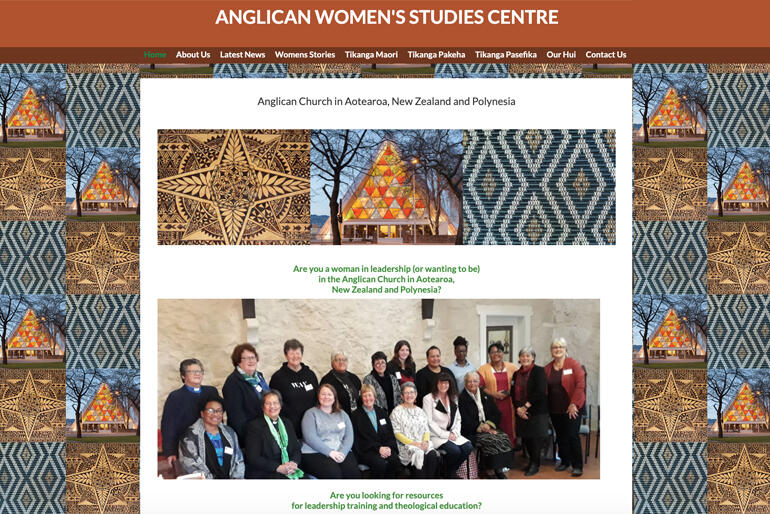 A new website launched by the Anglican Women's Studies Centre this June is encouraging women in leadership in this Church to contribute their wisdom and vision to its pages.
The new website, developed by the AWSC Council, designed by Rosemary Neave, and run by its administrator Ceridwyn Parr, also offers links to the many training and mentoring opportunities that the AWSC network has available.
"Our vision is for this website to help serve the educational needs of women who want to become better leaders in their Anglican ministries and in their wider Christian lives," said website administrator Ceridwyn Parr.
The new website profiles women involved in the AWSC council, its regional link members and the women who take part in AWSC programmes, as well as those making waves across the wider church, and promotes the Centre's online and in-person opportunities for theological education and leadership formation.
The AWSC site emphasises sharing women's vision and expertise through the Pasifika concept of Talanoa – sharing stories in order to build empathy and help facilitate the whole community to make wise decisions for the common good.
A dedicated section of the site profiles stories written by women from across the Tikanga in Womens' Stories, while reports on Tikanga-level AWSC events as well as reflections, presentations and academic research from women across the three Tikanga can be found through the Tikanga links: Tikanga Māori, Tikanga Pasifika and Tikanga Pākehā.
The new website is part of a wider AWSC Council strategy to support women as they take up representative positions across the councils and committees of this Church. The AWSC is keeping the focus on this zone to support the General Synod Te Hinota Whānui aim for this Church to gain equal gender representation on all provincial councils and commissions.
The AWSC Council also hopes the new site will open up more opportunities for intentional mentoring of women already in national and international representative roles and help more Anglican women fulfil their potential as leaders.
"Through AWSC work I have seen women reach heights they may not otherwise have gained." said AWSC Convenor Numia Tomoana after the launch.
"AWSC's training opportunities at national and international women's conferences have given us the chance to meet other women, hear their stories, and affirm our own voices that can spark and fuel a passion. Confidence grows, pathways open, networks form, and women's potential is recognised by others."
"We hope that the new website will help even more women gain access to these resources for ministry and leadership development."
A new innovation available through the AWSC website will be regular Zoom hui (Zui) where postgraduate students share their enthusiasm and insights on their expert research topic. A recent example was Helen Wilderspin's zui on "The impact of play on learning, creativity, spirituality and liturgical worship".
Women are invited to listen in and chat with these creative thinkers at the AWSC Zui that are currently being held every 6 weeks.
The next Anglican Women's Studies Centre provincial training hui is scheduled for October 2021 and takes up the theme: Te Whaea, Papatuanuku – na Tina ni Vanua –The Earth is our Mother.
All women connected to the Anglican Church in Aotearoa, New Zealand and Polynesia are welcome to the AWSC 2021 hui which will be held at Waikato Diocesan School in Hamilton.
The hui will include a pilgrimage and focus on the leadership of Tarore of Waharoa, and Paikea. Alongside the pilgrimage the hui will include workshops, film and speakers from all three tikanga embracing the theme.
The AWSC Council encourages women throughout the Church to submit contributions (written, audio and video) to the stories section of its new website.
Particularly welcome are reviews, reflections on life as a woman in leadership in church and community, contemporary theology, learning and study opportunities and experiences, engagement with current issues, through book, website, or podcast reviews, and reports on women's gatherings in each tikanga, Hui Amorangi or Diocese.
Contact AWSC Administrator Ceridwyn Parr to discuss possible contributions or send your work via: anglicanwomenstudies@gmail.com