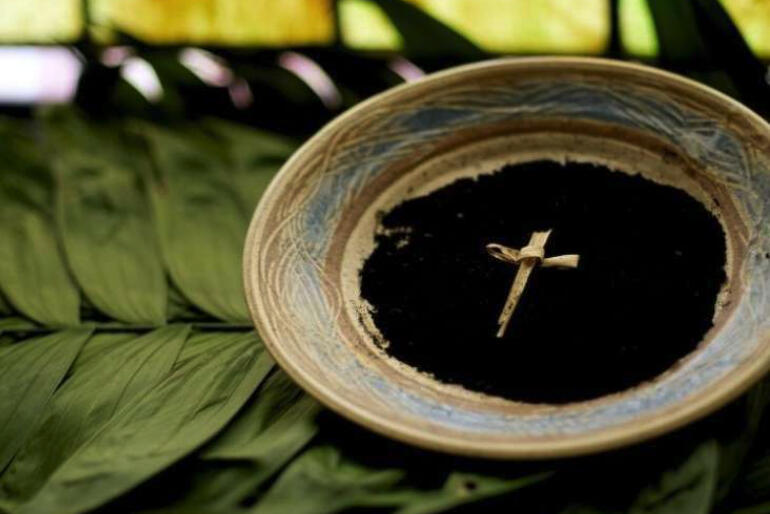 After months of life almost 'back to normal' and all new Covid-19 infections contained in managed isolation, Aotearoa New Zealand moves into a three-day higher Covid Alert Level for the first half of this week.
While Auckland moves to a mini-lockdown in Level 3 after a small community outbreak, Level 2 Covid restrictions will be back in place for Ash Wednesday around the country as churches and whare karakia (houses of prayer) move back to no contact gatherings, number limits and event registers for services.
Bishop of Aotearoa, Archbishop Don Tamihere says that Hui Amorangi in both Level 3 and Level 2 zones are well-versed in the protocols for each Covid Alert Level and are advising their clergy to respond accordingly this week.
"The safest advice for Ash Wednesday services is to adhere strictly to Ministry of Health guidelines and forego the imposition of ashes, but this will be up to each individual episcopal unit to decide." he said.
"The most important principle is that we take care of the needs of the most vulnerable first. – Kia tiakina te whakapapa, kia atawhai."
Archbishop Philip Richardson reports that the New Zealand bishops are setting their own additional guidelines for the start of Lent this year.
Sadly, a number of large ecumenical services that bring Catholic and Anglican communities together on Ash Wednesday in Aotearoa New Zealand have been cancelled, due to the restriction on gatherings over 100 in Level 2.
For the Pīhopatanga o Te Tai Tokerau based in Tamaki-makaurau and the Diocese of Auckland within Auckland city, church buildings and whare karakia are closed for Ash Wednesday, while services continue online.
For those in Level 3 in Auckland – where there is evidence the UK Covid strain has reached into the community beyond managed isolation – only weddings, funerals and tangihanga can proceed, but those are limited to ten people.
General Secretary Rev Michael Hughes reports that some Auckland churches are holding online Ash Wednesday services during the three-day lockdown, and planning to impose ashes during a later Sunday service once the hopefully brief Level 3 lockdown lifts.
Across Aotearoa New Zealand beyond Auckland city, churches are now moving quickly to Covid Alert Level 2.
Susan Wallace from Te Pīhopatanga o Te Waipounamu reports that the work of the Māori Anglican Church in the South Island continues unchecked, but while whare karakia remain operational, communities need to take extra care to follow the Government's Level 2 guidelines.
"Although this is only a three day period, we should be prepared for a possible extension and as we wait for the outcome of the investigation underway to find the source, please hold our Tāmaki whānau in your prayers."
"We ask that you remain just as vigilant in your own self-care and wellbeing as you do for your whānau and the whānau and whānui that you serve."
The Covid Alert Level 2 Government instructions for all religious services in New Zealand outside Auckland are this Ash Wednesday are:
Religious buildings can open in Level 2
Services can have no more than 100 people in each defined space excluding staff (for example clergy)
Worshippers who do not know each other need to stay 1 metre apart
Churches need to record attendees to ensure contact tracing can be done if necessary (but do not need to do this if each person at the gathering knows everyone).
Churches and whare karakia must display an NZ COVID Tracer QR code poster and have a contact tracing register.
People are asked not to participate in any gatherings if they have cold, flu or Covid-19 symptoms or if they need to be in isolation for any health reason
In the Diocese of Dunedin, Bishop Steven Benford has advised clergy holding Ash Wednesday services in Level 2 to follow a new protocol of non-contact imposition of ashes. This is the method proposed by the Vatican, which replaces the normal practice of using oil mixed with ashes and forming them in the shape of a cross on the forehead, and instead proposes sprinkling of dry ashes on the top of the head.
The Diocese of Dunedin's Level 2 restrictions add specific church guidelines to the Government's regulations. Some of the practices adopted by Dunedin churches include:
no hand contact when passing the peace
offering the Eucharist in one form only (no shared chalice)
holy water removed from church stoups
altar rails removed and communion administered while standing to prevent surface contacts
Aotearoa New Zealand's current Covid Alert Level shift to Levels 3 and 2 remains in place until midnight on Ash Wednesday pending further updates on the state of community transmission.
The Pīhopatanga o Aotearoa's online service for Ash Wednesday links below:
Pihopatanga o Aotearoa: Te Weneri Pungarehu